Abraham Lincoln: Vampire Hunter (hell of axe-cellent hunter)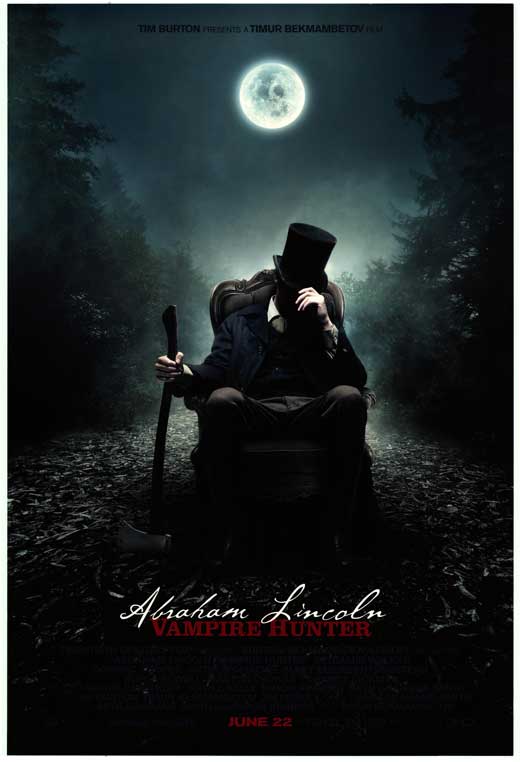 E- Value: 8.5 / 10
Acting : 8.5 / 10(Benjamin Walker); 7.5(Dominic Cooper & Mary Elizabeth Winstead); 7.0 / 10 (other cast)
Plot : 7.5/10
"History prefers legends to men. It prefers nobility to brutality, soaring speeches to quiet deeds. History remembers the battle, and forgets the blood.
Whatever history remembers me if it remembers anything at all, it shall only be a fraction of the truth.
For whatever else I am: a husband, a lawyer, a president, I shall always think of myself first and foremost as a hunter." Benjamin Walker (a.k.a Abraham Lincoln) --Opening/Closure Paradox of the movie Abraham Lincoln: Vampire Hunter)
Um.. I was once riddled with a question, why was the movie producer bold enough to lay his mockery craft on the most remarkable politician in US history?
But it all changed once the hidden 'fraction' of the truth behind Lincoln is relayed, I take it as an honorably tribute to Lincoln with the sensible piece of fictional angle linked to Lincoln's greatest purposes to put an end to slavery in US. Apparently, it is a fact that Abraham Lincoln- the 16th US president who brought an end to slavery in the country. While the other 'fraction' of truth of him being a secretive vamps hunter is a fiction? Yet, that part remains as a mystery. By the way, who knows better about the truth than Abe himself?
Plots in this film are twisted and unpredictable most of the time. Among them is the truth behind Henry Sturgess (Dominic Cooper) who is in fact a vampire; mentoring Lincoln to become a vamps hunter. By doing so, he is actually killing his own kind.
The insightful paradox 'History prefers legends to men…' as infused during opening and closure narrated by Benjamin Walker (a.k.a Abe Lincoln) is one of the best paradox that testifies man's wisdom.
Choreography part is immaculate: Benjamin Walker (aka. Abe) is one hell of axe-cellent vamps hunter! Rest assured, this is one of the best action pack movie filled up with many hits but nothing compared to the highest suspense scenes stomping at horses stampede during Lincoln's confrontation with his nemesis, Jack and also the moving train on fire towards the end.
For casting part, Benjamin Walker literally resembles the face of Abraham Lincoln and also his pro-heroic axe-cellent vibes really gotten underneath my skin. The movie also churned out with some other supporting roles great acting chops. Some great examples are Dominic Cooper and Mary Todd who played Lincoln's wife.
The only one downside of this film is that when Lincoln decides to become a man armed with words and idealism, while his axe is no longer his primary weaponry. For that brief moment of time, honestly I miss him with his axe.
In a nutshell, Abraham Lincoln: Vampire Hunter is one of the greatest historical action pack movie not to be missed and of course, I will definitely stash this film as one of my addiction!
Saved to