Adoption Day
I never really considered myself a dog person.  In fact, I always had a pension for cats.  But when we first moved to Atlanta, and TBF wanted a dog...I thought, why not.  We have more room (as in our apartment here was bigger than the one in NYC) and I thought a dog could be fun.
So we went to our local Pet Supermarket during the weekends to check out the dog adoptions they hold.  We've come by a few times just to see the dogs, no real intention of adopting since we didn't fully commit ourselves to pet ownership...until one Sunday, we came by again just to say hi, and there this cute brown doggie was. 
He was so friendly and just wanted to be petted and have his belly rubbed. It was really the cutest thing to see.  Despite the cuteness though, it wasn't love at first sight for me, nor did I think I felt any kind of personal connection to the dog.  But it seemed that TBF did, as he walked the dog around the store and started to bond with him while I filled out paperwork.
As I filled out all the necessary forms, I got what I believe to be the standard lecture of how big the responsibility is, how puppy and obedience training is highly recommended, and how long we should expect to have the dog in our lives (average lifespan of 12-14 years).  I never knew adopting a dog was such a big deal....I had to wonder what was I getting myself into.
And thus the journey of pet ownership began, and so did my life, and how I viewed things...particularly regarding pets and animals.  And I honestly would have never been able to guess how owning a dog could affect different aspects of my life.  So this is my journey...or I guess our journey, mine and my rescued dog-child Rolo.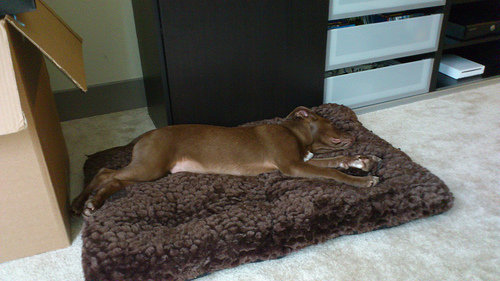 What's your story?  Join the group and share your journey with your four-legged family member.

Saved to