The "Alice" in My Life - Alice.com


A friend of mine introduced me to Alice when we were casually talking about the expenses of living in the Manhattan. We all know living in this part of NYC is considerably more expensive than living in the outer boroughs, but I didn't quite grasp the higher costs also applied to basic things like dry cleaning, groceries, and household items. So as any savvy shopper tries to do...we look for deals. Enter Alice.com



My friend described Alice as kind of like a Fresh Direct but for household items. They also apply any known manufacturer coupon to the items that you buy. She sent me a friend invite, and off I went to the site to give it a shot.
The site is arranged in an easy to navigate kind of way. You start off by building your profile, identifying other members of the household, and even going though a brief list of items that you normally buy (you can skip any of these at first). Then you just shop away.
Their current level of inventory is actually pretty vast, that I am sure you can find almost anything you are looking for. You can perform specific searches, filter by brand, product, and even by coupon/deal. Shipping is always free (EXCELLENT!), but you do have to purchase at least 6 items at a time.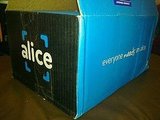 One thing I find particularly helpful is that Alice sets purchase reminders on the items that you buy. Like for paper towels, I set Alice to remind me every 6 weeks to make this purchase. She actually provides an estimate time frame for you, I think based on the number of people in your home, but so far...after 3 purchases, her estimates seem pretty accurate. You can change them yourself if needed.
Another cool thing about Alice, all your items come shipped in this cute black and blue box, making it easy to identify your purchase. From submitting the order to making it's way to my door, my deliveries usually took about ~5 days. Not bad when you know you need some things, but just aren't in a rush for them.
You can also find them on Twitter.  Gotta luv that :-)
Saved to