The Amazing Spiderman 2012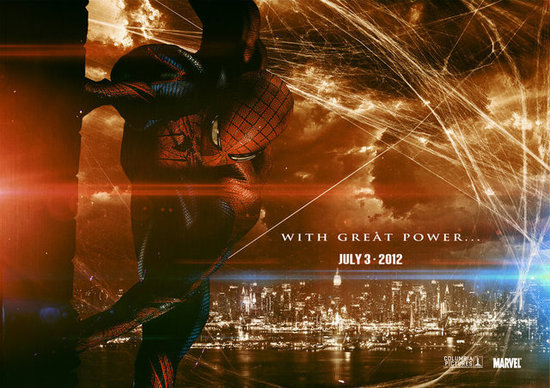 Recommended Soundtrack: Linkin Park – Somewhere I Belong
E- Value : 8/10
Plot : 6.5/10
Acting: 7.5/10(Andrew Garfield & Emma Stone), 7/10(Rhys Ifans, Martin Sheen & others)
The Amazing Spiderman is the latest 2012 reboot of Spiderman series with a string of brand new plots and casting directed by Marc Webb. In this latest film, the plot revolves around an average teenage boy, Peter Parker(Andrew Garfield) who is left to wonder with his unsolved childhood mystery of his parent's disappearance. One day, Peter accidentally stumbles upon an old briefcase at his uncle's(Martin Sheen) house attic which contains a working sheet of algoritma theory and an old photo of his father snapped with an ex-colleague, Dr. Curt Connors (Rhys Ifans). The inadvertent discovery leads Peter to Oscorp where his father used to work there in order to connect the dots behind his parent's disappearance. However when he gets bitten by a genetically altered spider in Oscorp lab, his life leaps forward extraordinarily…
I am amazed as the movie title soared with the sci-fi approach, the cross-bred theory known as algoritma theory and the added element of genius mind to the protagonist. On top of that, it also surprises me with the enhancement of love interest to be more compelling and adventurous in between Spiderman with Gwen (unlike those days when Gwen often been picked up as leverage by villains) Gwen in latest one played by Emma Stone is not wasted at all with her more involvement playing part to help her boyfriend, Spiderman to save the world. The movie also churns out with lots of humorous scenes on Peter's adjustment with his mojo after bitten by the spider.
Nonetheless, the beautiful string on the villain part incidentally cut loose in the end with an illogical ending wrapped up for the Lizard Man at Oscorp tower. (here's my cue, if the doc's nerves meltdown is self-inflicted; then what's up the antidote has to do to undo everything he does to Spiderman? And also the grand story behind unsolved Peter's childhood mystery of his parent's disappearance remains shade of gray.
On casting part, Andrew Garfield looks perfectly fit for spidey role with his long and seemingly elastic limbs. He also churned out the all natural acting chops without overdoing geekish streak. Emma Stone also truly amazed me with her charismatic vibes and not to mention, an amazing kisser too.
CGI for Lizard man and 3D effect for Spiderman movement greatly projected.
In spite of all my mixed reviews, rest assured this is one of the great examples of interesting rides but still, quite a distance from epic yet…
Saved to