American Berry No-Bake Cheesecake
I found this recipe on food.yahoo.com. It's SO delicious! I was bored one day and my boyfriend had said something about cheesecake a couple days earlier so I thought why not? He loves it and asks for me to make it all the time now!! Give it a try!
Also, the picture is from food.yahoo.com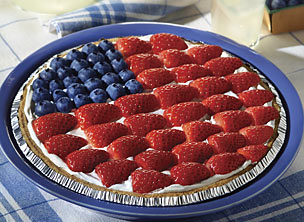 food.yahoo.com
American Berry No-Bake Cheesecake
Ingredients
- 2 (8 ounce) packages PHILADELPHIA Cream Cheese, softened
- 1/3 cup sugar
- 2 cups thawed COOL WHIP Whipped Topping
- 1 (6 ounce) HONEY MAID Graham Pie Crust
- 1 pint strawberries, halved
- 1/3 cup blueberries
Directions
- Beat cream cheese and sugar in large bowl with electric mixer on medium speed until well blended. Gently stir in whipped topping.
- Spoon into crust.
- Refrigerate 3 hours or until set. Arrange strawberries and blueberries in rows on top of cheesecake to resemble flag. (Or, arrange fruit in other desired design on top of cheesecake.) Store leftover cheesecake in refrigerator.
This is 8 servings.
Information
Category

Desserts, Cheesecake
Saved to