Artichoke Dip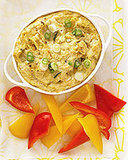 Ingredients
2 cans (14 ounces each) artichoke hearts in water, rinsed, drained, and coarsely chopped
1/2 cup light mayonnaise
1/4 cup plus 1 tablespoon grated Parmesan cheese
1 tablespoon fresh lemon juice
1 garlic clove, coarsely chopped
1 scallion, minced, plus more for garnish
Crudites (such as raw pepper wedges) or whole-wheat pita chips, for serving
Directions
Preheat oven to 425. In a food processor, place half the artichokes, the mayonnaise, cup Parmesan, lemon juice, and garlic. Process until smooth.
Add scallion and remaining artichokes; pulse once to combine. Transfer mixture to a 1-quart baking dish. Top with remaining tablespoon Parmesan.
Bake until golden and bubbling, 30 to 35 minutes. Garnish with scallion, and serve with crudites or pita chips.
Serves 8.
Saved to