Asparagus Risotto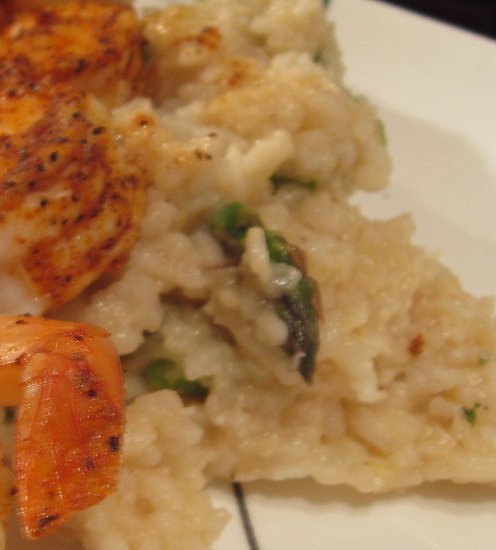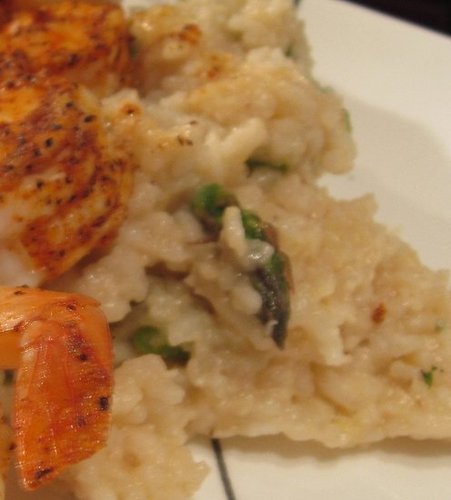 Ingredients
2 cups Arborio rice
5 cups chicken or vegetable broth
1 cup dry white wine *I used Riesling and it was fine!
8oz asparagus, ends trimmed and sliced into 1 inch pieces
1 small onion, chopped
1 tablespoon butter
1 cup Parmesan cheese, grated
1 tablespoon fresh parsley
1 tablespoon lemon juice
zest of one lemon
salt and pepper to taste
Directions
In a small pot on the back burner, warm broth.
On front burner in a large pot, melt half the butter over medium heat.
Add onions and stir for around three minutes, stirring occasionally.
Add the rice and cook for another two minutes.
Add wine and continue to stir.
Once the wine has been absorbed, around five minutes, begin adding stock 1/2 cup at a time.
Stir constantly!
Heat a skillet over medium heat and add remaining butter.
Saute the asparagus until just tender, around five minutes.
Remove from heat and set aside.
Continue to monitor the risotto, adding stock as needed, and stirring regularly.
Towards the ends as the risotto starts to plump, stir frequently to make sure it doesn't burn.
When all of the stock has been absorbed and rice is cooked through, remove from heat.
Stir in the parsley, lemon zest, lemon juice, Parmesan and asparagus. 
Stir to combine.
Add salt and pepper to taste, and serve hot.
Information
Category

Side Dishes, Rice

Cuisine

Italian
Saved to