Authentic Brazilian Ground Beef with Vegetables.
It's called "Picadinho" in Brazil, it's a very popular dish. I hope you like it!
Serve with white rice!;)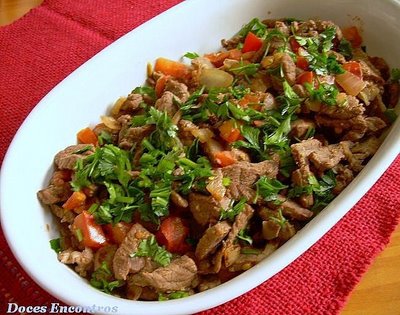 www.terra.com.br/culinaria
Authentic Brazilian Ground Beef with Vegetables.
Ingredients
* 1/2 cup olive oil
* 2 onions, chopped
* 4 cloves chopped garlic
* 2 pounds ground beef
* 3 stalks celery, chopped
* 1 green bell pepper, chopped
* 6 eggs
* 1 (15.5 ounce) can diced tomatoes, with liquid
* 1 cup chopped fresh parsley
* 1 1/2 cups red wine
* 1/4 teaspoon crushed red pepper flakes, or to taste
Directions
1. Heat the olive oil in a large pot over medium heat. Stir in the onions and garlic, and cook until the onions have caramelized to a deep, golden brown, 15 to 20 minutes. Stir frequently as the onions cook. Meanwhile, place the ground beef, celery, bell pepper, eggs, tomatoes, and parsley into a mixing bowl; mix until evenly combined.
2. Add the meat mixture into the caramelized onions, and increase the heat to medium-high. Cook and stir until the beef is crumbly and no longer pink, about 10 minutes. Reduce the heat to medium-low, cover, and simmer 15 minutes. Stir in the red wine and red pepper flakes. Continue simmering, covered, until the liquid evaporates, about 1 hour.
Information
Category

Main Dishes

Cuisine

South American
Saved to