Autumn Gems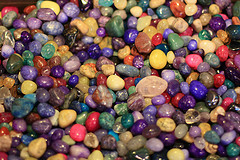 Topaz and citrine are the birthstones of the month of November. No wonder they make me think fall.  Let's also take a look at another warm stone: smoky quartz.  What exactly is the difference between these semi precious stones?  It can get tricky, but here goes...

Yellow or golden quartz is called citrine.   Brownish yellow quartz may be called champagne citrine and bright pumpkin orange to dark orangish red in color usually go by the name madeira citrine.  But the skinny is this, citrine is quartz which is warm toned (ie: yellow, orange, brown, red) For comparison, amethyst is purple quartz.  Quartz is a common stone with a hardness of 7.  It occurs naturally in many, many colors and may be treated to change its color too.  Various quartz crystals can form together (usually amethyst or smoky and citrine)  to form bi-colored quartz.

Smoky quartz is the dark brown variety of quartz. In the past, these were often sold as "smoky topaz". There is no such gemstone known as smoky topaz and it's illegal to refer to quartz as "topaz". Watch out for some unscrupulous dealers who sell "smoky topaz", it is probably quartz. Citrine was often passed off as topaz as well.

Yellow topaz is sometimes called "precious topaz" to distinguish it from the names "gold" and "madeiria topaz", which are in fact citrine/quartz.   Topaz is a completely different stone.  Rarer and with a hardness of 8, it is generally a more expensive gem.  It presents naturally in a variety of colors.   Yellow topaz is sometimes heat treated to make it look pink. The term "imperial topaz" is used by ethical jewelers to refer to topaz that is reddish orange of medium tone and higher saturation. Yellow/Orange topaz is occasionally irradiated to intensify color.  Brown topaz is not enhanced. Green and blue topaz are usually irradiated to produce the desired color.

So as you can see, there is plenty of room for interpretation  in the colors of stones and their description, not to mention technologies to change/improve the color of stones to make them appear confused with other types of stones.  The only way to know for sure is to test the chemical makeup.  Gem dealers have used this to their advantage for a long time.  For jewlry as an investment, it pays to be educated.  However for most of us, in the end - whatever the hardness or mineral content, we just want something pretty.  As long as you don't splurge more than your budget can reasonably accomodate &  you purchase only what you genuinely find beautiful (shop in person, preferrably),  even if it turns out to be cut glass, you can be happy with your transaction.

Enjoy some finds.  Thanks to the community  for the inspiration.

Saved to