Avocados with Quinoa & Fresh Veggie Stuffing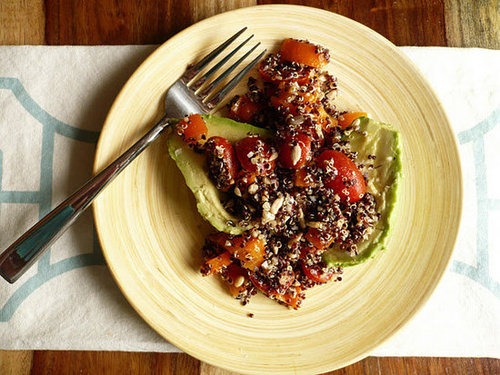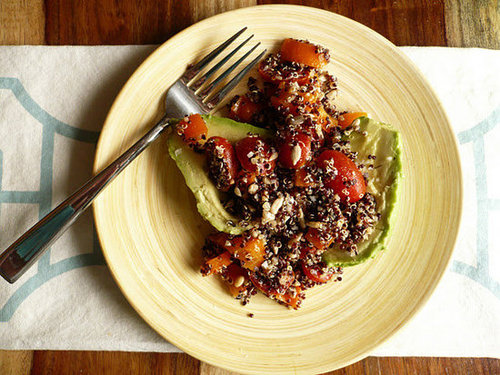 Avocados with Quinoa & Fresh Veggie Stuffing
Ingredients
1/2 cup quinoa, rinsed (any color will work)
1 cup water
3 ripe avocados (1 avocado per person)
1 orange or yellow bell pepper, diced
1/2 pint of grape tomatoes, halved
3 tbsp raw sunflower kernels
half of a lemon
about 1 tbsp olive oil
sea salt, to taste
finely chopped mint to serve (optional)
Directions
Cook the quinoa: put the quinoa and water in a sauce pan. Bring it to a boil, then drop to a simmer, cover, and cook about 15 minutes until all the water is absorbed and the quinoa is fluffy. Remove from the heat and set aside to cool a bit.
In a bowl, combine the cooled quinoa, tomatoes, bell pepper, sunflower kernels, a good squeeze of fresh lemon juice, the olive oil, and a pinch of sea salt. Toss everything together, then taste the stuffing and adjust the lemon juice or salt to your liking.
Halve each avocado, remove the pits, and remove the skin, being careful to keep each half intact. Put 2 halves on each plate, squeeze a bit of lemon juice over them, and season with just a touch of sea salt. Spoon the stuffing onto the avocado halves, making sure to divide it up evenly. Sprinkle the mint over the top and then serve immediately. Enjoy!
**this serves 3 as a main dish with each person getting a whole avocado, but it will serve 6 as a side dish with each person getting half of an avocado
Information
Category

Main Dishes
Saved to