BBQ !!!
Have an amazing BBQ with these tasty and easy recipies =] ask each of your friends to bring something different and have fun with it
THE TRADITIONAL FAVORITES AND MORE ::


BABY BACK RIBS :
2 racks baby back ribs (about 2 1/2 pounds)
1 recipe Bourbon Barbecue Sauce, recipe follows
Preheat oven to 350 degrees F.
Cut the racks of ribs in half crosswise. Rub the ribs, paying special attention to the meaty side, with 1/2 cup of the sauce. Lay the rib pieces meat side down in an 11 by 13-inch baking dish. The pieces will overlap slightly.
Cover the dish tightly with aluminum foil and bake until the meat begins to pull away from the ends of the bones and the ribs are just tender, about 1 hour. You can bake the ribs up to a day before and keep them refrigerated. Bring refrigerated ribs to room temperature about 1 hour before you grill them.
Preheat an outdoor grill to medium-high heat. Grill the ribs, brushing them with about half the remaining sauce, until they're crispy and heated through, about 10 minutes. Move the ribs around as they grill, the sugar in barbecue sauce makes it easy for them to burn. Let the ribs rest for 5 to 10 minutes before cutting them into 1 or 2-bone pieces. Put out the rest of the sauce for dipping or brush it over the ribs.
Bourbon Barbeque Sauce:
1/2 cup steak sauce
1/2 cup bourbon or good dark beer
2 tablespoons Worcestershire sauce
1/4 cup packed dark brown sugar
1 teaspoon regular or grainy Dijon mustard
2 pinches red pepper flakes
Kosher salt
Stir all ingredients together in a small bowl until sugar is dissolved. The sauce will keep in the refrigerator for up to 2 weeks.
Yield: about 1 1/2 cups
MASHED POTATO : (try baked too )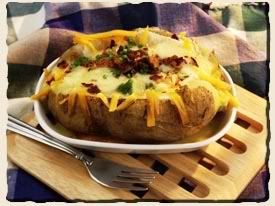 4 pounds golden creamer potatoes, peeled and cut into quarters
1 bay leaf
Kosher salt and freshly ground black pepper
2 cups heavy cream
3 tablespoons unsalted butter
2 tablespoons chopped chives
Put the potatoes into a large pot, add the bay leaf, 2 tablespoons salt, and cover with cold water. Bring to a boil over medium-high heat and cook until the potatoes are tender, about 20 minutes. Drain them well and remove the bay leaf. Meanwhile, heat the cream and butter in a small saucepan. Put the potatoes through a ricer or food mill into a bowl. Add the hot cream and season with salt and pepper. Mix together with a spoon and add the chives.
BAKED POTATO:
1 large baking potato
Butter or creme fraiche, as an accompaniment
Preheat oven to 425 degrees F.
Poke holes in potato and wrap in foil. Bake in oven for 45 to 60 minutes until tender.
Serve with butter or creme fraiche.
i also like to add chives , sour cream and cheese ( put in chees first so it melts )
CEASER SALAD :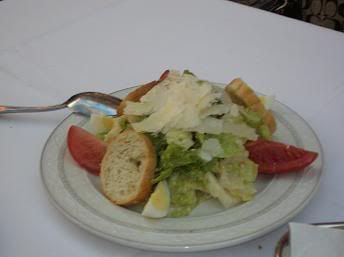 1 tablespoon olive oil
1/2 teaspoon minced garlic
1 cup bread, cut in 1/2-inch cubes
3 hearts romaine lettuce
1/2 cup Caesar Dressing, recipe follows
1/2 cup shaved Parmesan
In a large skillet heat the olive oil over medium heat. Add the garlic and bread cubes, tossing well to coat with oil. Toast in the skillet for 7 minutes until golden.
Tear the romaine hearts into bite size pieces. Toss with the Caesar Dressing making sure to coat all the leaves generously. Garnish with shaved Parmesan and the garlic croutons.
Caesar Dressing:
3 anchovy fillets, finely chopped
1 tablespoon finely chopped capers
1 tablespoon Dijon mustard
1 egg yolk*
1 teaspoon minced garlic
3/4 cup vegetable oil
1 tablespoon red wine vinegar
1 tablespoon lemon juice
1/4 cup heavy cream
Kosher salt
More of your favorites coming soon ? got any other recipies comment below : want any different kinds also comment below ::