BEHIND YOUR HOROSCOPE
Whether you believe in the horoscope or not,
I thought some of you may really enjoy this!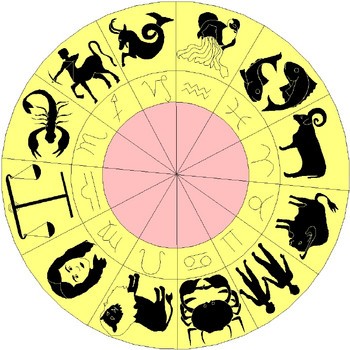 BEHIND YOUR HOROSCOPE
 
The time of your birth is the determinant of your horoscope sign. The day and month during which you were born decides the horoscope sign under which you fall. Astrology bears twelve horoscope signs that are derived from constellations in the sky. Your zodiac sign is based on the constellation in which the Sun lies, at the time of your birth. Here are the descriptions of each of the horoscope signs.
 
Aries:
People born during the period of March 21 to April 20, fall under this sign. A mountain goat symbolizes this sign and Mars is the ruling planet. Fire is their element. Those falling under this sign are impulsive and goal oriented. They might be short tempered. They like to understand things at a high level. They do not prefer to get into minor details of things. They are warm at heart and like to comfort people around them.
 
Taurus:
People born during the period of April 21 to May 20, fall under the horoscope sign Taurus. Bull is the symbol of this sign. Venus rules the sign and the element associated is earth. People born under this sign are passionate and loyal. They are short tempered but they cool down pretty quickly. They are romantics. They are firm on their decisions and seldom relent to domination. Being stubborn they seldom try to understand the perspective of others.
 
Gemini:
People who are born between the dates May 21 to June 20, belong to the horoscope sign Gemini. Twins symbolize this sign and Mercury rules it. Gemini belongs to the element air. Rightly signified by the symbol, these people have two facets to their personalities. People falling under Gemini are talkative and outgoing. They show creativity and originality in their thoughts and actions. They always yearn for knowledge. They are very interactive and innovative people. They love change and thus tend to deviate from their goals.
 
Cancer:
According to astrology, those whose birth dates lie within the range of June 21 to July 20, fall under the sign cancer. A crab symbolizes this horoscope sign. Moon rules cancer and their element is water. People belonging to this sign are calm and peaceful. They have an exceptional understanding of human nature. They are patient and empathetic. They are often very sentimental people who tend to hide their emotions.
 
Leo:
If your birth date falls between July 21 to August 20, you are a Leo. Sun is your ruling planet and your element is fire. Leos are gifted with leadership qualities. They may not be easy to work with, as they tend to dictate terms. Honest and frank, they always fight for justice. Contrary to how they seem, they have a warm heart.
 
Virgo:
Those born during the period of August 21 to September 20, fall under the horoscope sign Virgo. If you are a Virgo, Mercury rules you while you are of the element earth. You are analytical. You always struggle for perfection. Virgo women can excel in fields such as teaching or nursing. Men belonging to the sign Virgo can make a successful career in accounting or banking. Virgos are best at planning and organizing work.
 
Libra:
Does your birthday lie between September 21 and October 20? Then you fall under the horoscope sign Libra. Weighing scales symbolize Libra. Suiting to the symbol, they are balanced and thoughtful by nature. With Venus ruling you and your element being air, you are in a constant search of betterment. Your family means the world to you, but you lack the ability to express your feelings and may seem aloof.
 
Scorpio:
Those born within the dates October 21 and November 20, fall under the sign Scorpio. A scorpion symbolizes this sign. Mercury is their ruling planet and their element is water. Scorpios are often magnetic. They are intelligent and astute. Scorpios are optimistic people. They have intense and dramatic relationships. Known to belong to the most powerful sign, Scorpios are winners!
 
Sagittarius:
People born during the period November 21 and December 20, fall under the zodiac sign Sagittarius. An archer symbolizes this sign. Fire is the element. Jupiter is the ruling planet. People falling under this sign like to accept challenges and take risks. They pursue perfection. Their personalities show a blend of cheerfulness and philosophy. They believe in learning from every experience. They are characterized by varying moods, seeming irresponsible on certain occasions.
 
Capricorn:
People born in between December 21 to January 20, fall under the sign Capricorn. This sign is associated with a goat and Saturn is its ruling planet. Owing to their association with the element earth, endurance and stamina are characteristic to this sign. Those falling under this sign are very active. They can be excellent businessmen. But they sometimes overly think on certain subjects and bother themselves. They might exhibit selfish conduct and black emotions.
 
Aquarius:
Those of you who celebrate their birthdays between the days, January 21 and February 20, belong to the zodiac sign Aquarius. A water bearer signifies this sign. Saturn is their ruling planet; their element is earth. They are trustworthy. They believe in the power of truth. They are intellectuals who are often immersed in gaining knowledge. They are philosophical by nature and often detached from their near-ones.
 
Pisces:
Those celebrating their birthdays between February 21 and March 20, fall under this sign. Fish is their symbol and Jupiter, their ruling planet. They are compassionate and caring in nature. Their friends mean a lot to them. Going out of their way for the sake of friendship, they are very good as friends. They believe in living in the present and facing anything as and when it comes.
 
The horoscope signs broadly categorize human natures into twelve classes. They represent different kinds of personalities. This is just a broad classification and not the only determinant of one's persona.
Saved to