Baked Chimmichanga's
Quick & easy if you have leftover chicken.
Unknown
Baked Chimmichanga's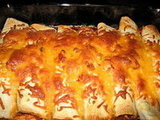 Ingredients
1 small onion - chopped
3 cloves garlic - minced
1 tblsp. vegetable oil
2 cups salsa (I used Herdez AMAZING )
1 1/2 tsp. chili powder
1/2 tsp. ground cumin
1/2 tsp. ground cinnamon (I would recommend 1/4 tsp.)
2 1/2 cups cooked, shredded chicken OR turkey
10 8" flour tortilla
1 can refried beans
non-stick cooking spray
Directions
In a large saucepan over medium-high heat, sauté onion and garlic in oil until tender; stir in salsa, chili powder, cumin and cinnamon.
Stir in the chicken/turkey until well mixed; remove from heat and set aside.
Take a tortilla and spoon 2 tablespoons of refried beans down the center of each tortilla; top with a 1/2 cup (not packed down) of the chicken mixture.
Fold the top and bottom of the tortillas toward the center, then roll up the sides. didn't do this, I just rolled them up, but they would be prettier the proper way)
Place chimichangas in a 13"x 9"x 2" baking pan, seam side down.
Spray all sides of the chimichangas with a light coating of cooking spray or brush with butter/oil.
I had some leftover salsa so I just tossed on the top.
The recipe said to flip after 10mins of baking but I threw some cheese on top and skipped the flipping process. If you prefer your Chimmichanga's to be crispy then omit the cheese and flip according to the recipe.
Bake in a 450 degree oven for 20-25 minutes, or until golden brown and crisp, turning after 10 minutes.
All Done & All Gone!
Enjoy!
Saved to