Baked French Onion Hummus
Sauteed onions and garlic, enveloped in a onion soup based hummus topped with mozzarella cheese.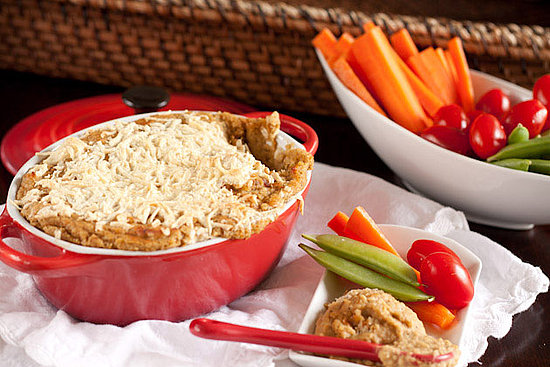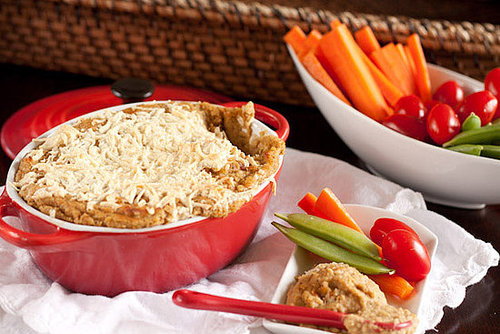 Ingredients
* 1 19oz. can chickpeas, drained and rinsed
* 2 yellow onions, sliced
* 2 garlic cloves, minced
* 1/2 cup filtered water
* 3 tbsp extra virgin olive oil + 1 tbsp for sauteing
* 2 tbsp cashini butter *see note
* 1 tbsp onion soup mix
* 1/2 tsp herbamare
* 1/2 tsp thyme leaves
* 1/4 cup non-dairy mozzarella cheese – I used Daiya
* freshly ground pepper, to taste
Directions
1. Preheat oven to 375F and find yourself a 3 cup casserole dish. Set aside.
2. Heat 1 tbsp olive oil in a cast iron pan [or other frying pan] on medium heat. Add sliced onions and garlic. Saute for 10 minutes making sure to toss every couple of minutes.
3. Meanwhile, combine remaining ingredients except cheese, in a food processor or blender.
4. Once onions + garlic are done, drop into food processor/blender and process until smooth.
5. Scoop hummus into prepared casserole dish and sprinkle cheese on top. Bake uncovered in preheated oven for 15 minutes before setting to a low broil and broiling for 4-5 minutes. Be sure to watch the top so that it doesn't burn!
6. Remove from the oven and let cool for 20 minutes.
Information
Category

Snacks, Dips
Saved to