Banana Bread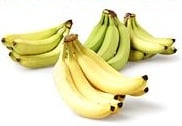 Ingredients
Cake:
1/3 cup butter, softened
2/3 cup sugar
3 ripe bananas
1 tsp vanilla
2 tsp baking powder
1/2 tsp baking soda
1 tsp salt
2 cups flour
Caramel Sauce:
1 cup sugar
1/3 cup water
1 T corn syrup
4 egg whites, room temperature
Caramel Meringue:
1 cup sugar
1 T corn syrup
2 T water
1 T salt (approximately)
1 T butter
1/4 cup cream
Directions
Make the cake: heat oven to 350 degrees.
In a mixer, cream together butter and sugar. Add in bananas and vanilla.
In another bowl, combine dry ingredients. Add slowly to batter. Mix to combine.
Butter or pan spray a 9x9 inch pan. Bake for approximately 25-30 minutes or until toothpick comes out clean.
Make the caramel meringue: put egg whites in mixer with whisk attachment.
In a stainless steel pot, put sugar, water and corn syrup. Simultaneously put mixer on medium high and put pot on high on stove. Continue with both until sugar is boiling and the bubbles begin to look thicker. Turn mixer to medium and in a steady and continuous slow stream add sugar to whites. Turn mixer back up and whisk until cool and very stiff.
Make the caramel sauce: put sugar, corn syrup and water in a stainless steel pot. Turn on high heat. Heat until caramel colored.
Remove from heat and whisk in butter, then cream sauce will fizz a little.
Let cool a bit then add salt. Season until salt stands up to the sweetness.
To serve, top the cake with caramel, then meringue. Torch the meringue to brown and garnish with banana slices, if desired. If you do not have a torch, broil quickly in the oven.
Makes 1 cake.
Information
Category

Breads, Desserts

Cuisine

North American
Saved to