Peanut Butter Swirl Banana Bread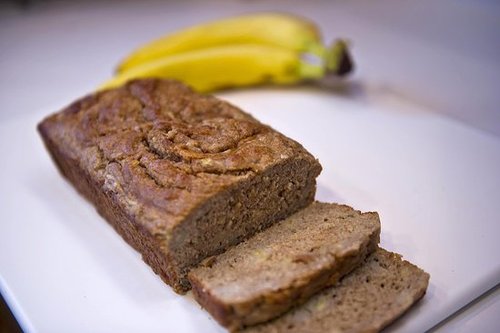 We spent this weekend with some of our closest friends in Cashiers, NC…it was a wonderfully relaxing time with people that we love…and a really great opportunity to try some fun recipes.  You see, I have a love for all things peanut butter, basically, I think it makes every sweet treat (and some savory ones) taste better.  Apples are good- but an apple with peanut butter- SO much better!  Bread with honey on it…ok…but bread with peanut butter and honey…a delectable little treat!  The list goes on…and it includes banana bread.  One of my favorite ways to eat banana bread is with a nice spread of honey roasted peanut butter on top (yum)!  So, this weekend, I decided…why not go ahead and put the peanut butter and the honey IN the bread?   So, Peanut butter swirled banana bread was born (made with oat flour and yogurt)!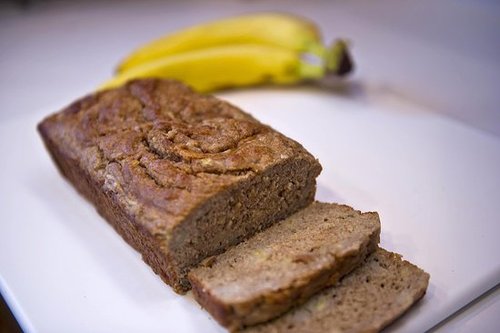 Peanut Butter Swirl Banana Bread
Ingredients
1/2 Cup 0% plain Greek yogurt
1/4 Cup brown sugar
1/4 Cup honey
2 eggs (or 3 egg whites)
1 teaspoon vanilla extract
2 large mashed bananas
2 Cups ground oats (just put them in the blender or food processor)
1 teaspoon baking soda
1 teaspoon baking powder
1 teaspoon sea salt
1 teaspoon ground cinnamon
1/3 Cup creamy peanut butter
Directions
Preheat oven to 350°F. In a large bowl, mix the yogurt, brown sugar, honey, eggs, vanilla, and mashed bananas.  In a separate bowl, combine oat flour, baking soda, baking powder, sea salt, and cinnamon.  Add the dry ingredients to the wet ingredients and gently fold together until everything is moistened and mixed (don't over mix!)  Pour the batter into a lightly greased 9 x 5-inch loaf pan.  Gently spoon peanut butter on the banana bread and then use a knife to swirl the peanut butter through the bread.  Bake the bread for 40-45 minutes (until it is cooked through and starts to turn golden).  Allow the bread to cool for about 5 minutes…turn in out onto a cooking rack and allow to cool at least 10 minutes before cutting.   Makes 1 loaf.
Information
Category

Breads, Loaf Bread
Saved to