Bangin' Bite Size Brownies
These were posted on Yum here and were lingering in my favorites for a while. I wouldn't normally repost it here, but I thought I'd share my experience making them because these are worth a second look. Holy crap, they were so. freaking. good. Moist, chocolatey, and absolutely delicious. I brought them with me to our Memorial Day :BBQ: and they were instantly devoured. I halved the recipe because I couldn't fathom having 72 of these, but now I sort of wish I'd made them all. All for myself. Heh, heh, heh. :sneaky-evil: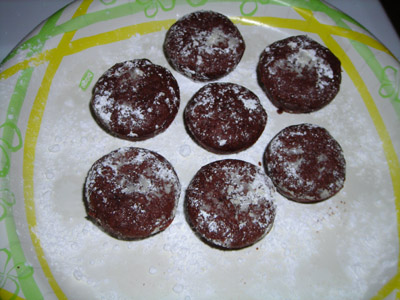 http://www.yumsugar.com/1536072 and http://www.epicurious.com/recipes/food/views/MINI-BROWNIE-CUPCAKES-102748
Bangin' Bite Size Brownies
Ingredients
8 oz. unsweetened chocolate
4 sticks unsalted butter
1 3/4 cup flour
1/2 cup unsweetened cocoa
1/2 tsp. salt
3 1/2 cups sugar
8 eggs
powdered sugar to decorate
Directions
1. Preheat oven to 350°F
2. Grease mini muffin tins very well.
3. Melt chocolate and butter together in a sauce pan over very low heat.
4. Whisk together flour, cocoa, and salt in a medium bowl.
5. Remove chocolate pan from heat when all is melted. Add 3 1/2 cups of sugar, stirring until incorporated.
6. Add eggs, one at a time, whisking into chocolate.
7. Stir in flour mixture until just blended.
8. Pour mixture into muffin tins and bake on middle rack for 13 minutes.
9. Remove from oven and cool. Dust with powdered sugar.
Note: My first batch of 12 I was able to easily pour the batter into the tins, but by the second batch the batter had gotten really thick and I was spooning it in. Yum suggests piping it in, but I didn't think that was necessary. Then again, mine weren't really all that pretty, just yummy.
Information
Category

Desserts
Saved to