Before & After Broyhill Brasilia dresser and chest of drawers
I have a slight obsession with the Brasilia by Broyhill line from the 1960's.  Both our dining room and bedroom are outfitted with furniture from this line.  We were "missing" nightstands for the bedroom though and I searched obsessively until I found them.  At an auction.  A state away.
Of course the nightstands did not come by themselves, they were part of a "lot" that included a double dresser with 2 mirrors.
and this taller 5 drawer chest (which we already had one of.)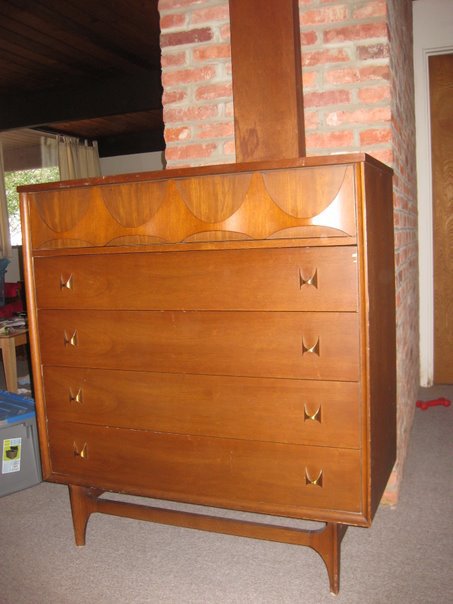 The big question was, what to do with these 2 pieces.  Part of me was tempted to sell them, but I knew that the chest wasn't in the best shape (it had a chip in the one drawer as you can see.)  Also I really didn't want them to fall into the hands of a dealer who would then turn around and jack up the price.  We are expecting our 2nd child and hoping to have a shared nursery and were in a storage crunch, of course all of the nursery furniture is white.
The thought of painting these pieces was borderline blasphemy.   I googled "white walnut furniture" just to see what came up and found a very cool dresser/changing table going for $1600.
With expensive inspiration as my rational I stripped, primed, sanded and painted the drawers of the dresser and chest.
While the room is not fully set up yet (I need to line the drawers with nice paper to truly finish the project, so please excuse the box on top of the chest of drawers and crib full of clothes!) - I am so happy with how the pieces turned out.  I was really nervous about painting these pieces, we have no painted furniture in our house, but the pieces now fit into our nursery and hopefully will be able to transition out of a nursery since they aren't totally white.
Saved to