Berry-Papaya Power Parfaits with Maple-Cinnamon Granola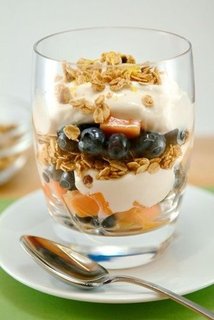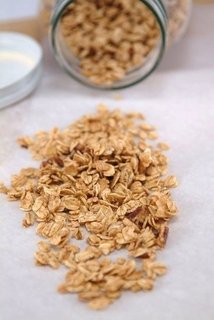 For the complete recipe, check out my blog Whipped at http://www.whippedbaking.com!
This is my new favorite breakfast- I had it every morning last week (only minus the greek yogurt, I had soy bc I can't have much dairy)! This Berry-Papaya Power Parfait is rich in antioxidants, fiber, and protein to keep you full and focused (Mini Wheats commercial anyone?), plus the enzymes in papaya are amazing for your digestion.
Also, I don't know about you all but the last thing I want to do in the morning is cook breakfast. The most I'll do is pour water into my instant oatmeal and sometimes I don't even have enough time for that! Soooo that's the second reason these parfaits are my new best friend. You can make them ahead. Make a few of these Sunday night, cover in plastic wrap and throw in the frig… and voila! Gorgeous yummy breakfast to grab quick and go in the morning!
Cheers to happy tummy's!
Yields 6 servings (serving size: 1/2 cup)
Ingredients:
3 containers (5.3 ounces each) plain nonfat Greek yogurt
5 tablespoons honey
1 1/2 teaspoons grated lemon zest, plus 1 tablespoon juice
1 papaya (1 pound), peeled, halved lengthwise, seeds discarded, cut into 1/2-inch cubes
1 package (6 ounces) fresh blueberries
1/2 cup granola
Preparation:
In a small bowl combine yogurt, 3 tablespoons honey, and zest; set aside.
Add remaining 2 tablespoons honey and lemon juice in a medium bowl, whisk to combine. Add papaya and blueberries and toss gently to coat.
To serve: Spoon half the fruit and juices among six 8-ounce tall glasses. Top with half the yogurt mixture and half the granola. Layer with the remaining fruit, yogurt, and granola.
You can find the Maple-Cinnamon Granola recipe on my blog at http://whippedbaking.com/2012/04/09/berry-papaya-power-parfaits-with-maple-cinnamon-granola/
Saved to