Birchermuesli
Yummy yogurt, fruit & oatmeal all mixed together. I got this recipe in a newspaper a few years ago. I make it a LOT. Love it.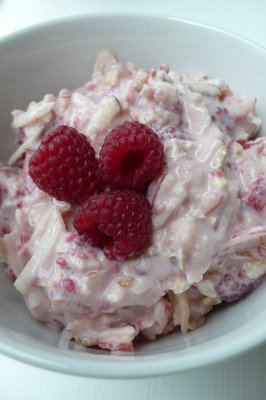 Photo from: http://nylondiner.blogspot.com/2007/09/rather-fortunate-fallout-from-our.html along with a different form of Birchermuesli
Birchermuesli
Ingredients
1 cup yogurt cheese (directions to make below)
1 cup milk
2 tsp lemon juice
1/3 cup sugar
1 cup oatmeal, muesli or rolled oats whatever you care to use
1 peeled/cored shredded apple
1 cup strawberries, diced
1 cup blueberries
1 cup raspberries
Directions
Directions for Yogurt Cheese:
Use an all natural, Balkan style yogurt for this. I use Astro Balkan Style Yogurt in Canada, not sure what variety is available in the States.
Put a strainer into another bowl. Take the entire container (2 cups ish) of yogurt and put into the strainer (you can use cheesecloth to make sure the yogurt doesn't go through the holes if they are big)... allow the yogurt to sit at room temp for at least 2 hours. When it is done you will notice almost 2 cups of whey in the bowl! The yogurt will now be a lot thicker.
Directions Cont'd:
Talk the oatmeal, sugar, lemon juice & milk and mix in a small bowl.
Mash half of the strawberries. Combined everything in one big bowl. Cover and put in the fridge for at least an hour prior to eating. This will stay good for up to 5 days in the fridge. If it lasts that long. ;)
Obviously you can change this recipe up to your taste. The main components are the yogurt cheese, oatmeal & fruit. Enjoy!!
Information
Category

Breakfast/Brunch
Saved to