Birth Affirmations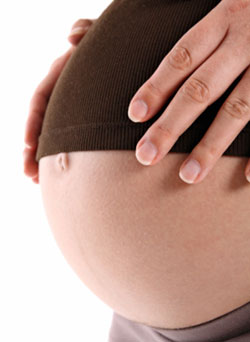 My hubby and I are taking a hypnobirth class, and it's been really amazing. Since we plan on doing a natural childbirth, we needed some tools in our tool belt to help us learn techniques to relax and cope with the intensity of labor and delivery. The instructor gave us some CDs remind us focus on our breath and on positive thoughts, and I know it sounds a little fruity, but it honestly has been so helpful. One of the CDs is birth affirmations, which I've used in my prenatal yoga classes before. You basically say a positive statement either in your mind or out loud, and it helps dissipate fears and manifest the feelings you want to experience. I wanted to share some with my fellow pregnant mommas, because they've been so helpful to me, and have made me (finally) feel confident and ready for this birth. If you have any affimations to share, I'd love to hear them as well.


Our baby's birth will occur at just the right time and just the right way.
I trust my body to grow my baby and I trust my body to birth my baby.
My body is strong enough to birth this baby.
I enjoy experiencing the power of my body as my birthing muscles bring my baby to me.
With each amazing wave, I am letting go more easily.
I am releasing to these sensations.
I let these waves wash through me as I go deeper into relaxation.
I am connected to myself. I am connected to my partner. We are connected to our baby.
I welcome strong waves that are bringing my baby closer.
Every contraction brings me closer to our baby.
The stronger my contractions become, the sooner I meet my baby.
I breathe slowly and easily and it helps my body to let go.
I breathe to my baby and let my breath flow down and out my baby's birth path to show my baby the way.
My body is so open that my baby just slides right out and into my arms.
I am calm, I am safe, I am relaxed.
I know hearing these for the first time is a little odd (or reminds you of SNL's Jack Handey), but if you can get passed feeling weird, and say them to yourself, they will help replace your fears with positive feelings.
Saved to