Black Krim Heirloom Tomato-Fest
The day has finally arrived...The heirloom tomato harvest has begun!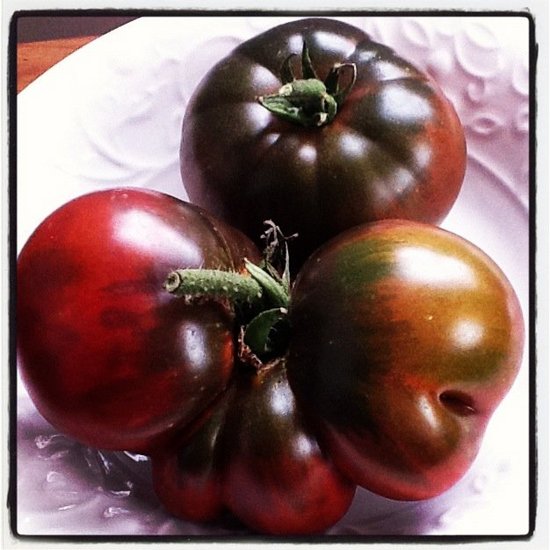 The black krim tomatoes I harvested this morning were beautiful! Their color gradient ranged from deep purple to green to bright orange to a dark ruby red. When I sliced into them, they were so pretty that I couldn't resist the urge to photograph that part too. (Did I mention that I was really excited about these tomatoes?)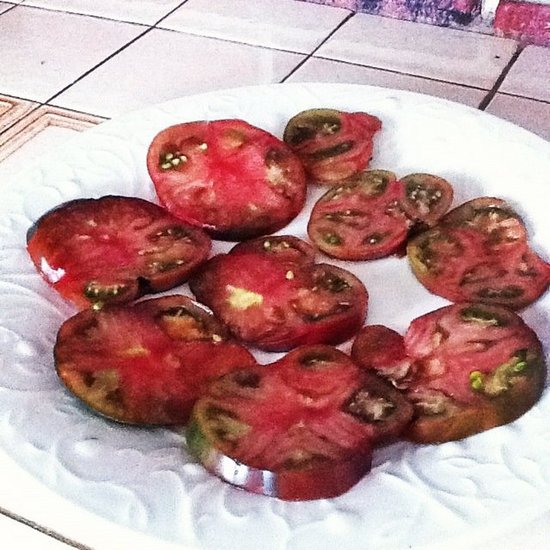 Black krim tomatoes originated from the Isle of Krim, an island located in the Black Sea off the coast of the Ukrainian peninsula. Although San Diego and the Ukraine do not share a similar climate, these heirloom tomatoes fared well here and there are even bigger ones growing on the plant at the moment. I am celebrating the momentous occasion with this tasty recipe for heirloom tomato and quinoa salad. It is similar in taste to a caprese salad (because basil is also in full bloom in my garden) but a bit more filling. This dish can be served hot or cold. It is a light and flavorful lunch or addition to any picnic, barbecue, or beach party menu. I used a combination of ingredients that would compliment the tomatoes and not take away from their sweet, slightly-salty, just-picked-off-the-vine flavor. I also added one of my favorite ingredients: quinoa. Because quinoa is a grain that is both a complete protein and slow to digest, if you eat this salad at lunch time, you won't get hungry an hour later. I chose a mild goat cheese because its light, creamy texture complimented the tomatoes well. For more on black krim tomatoes, recipes, and food, check out my blog at http://youarewhereyoueat.tumblr.com/ Buen Provecho!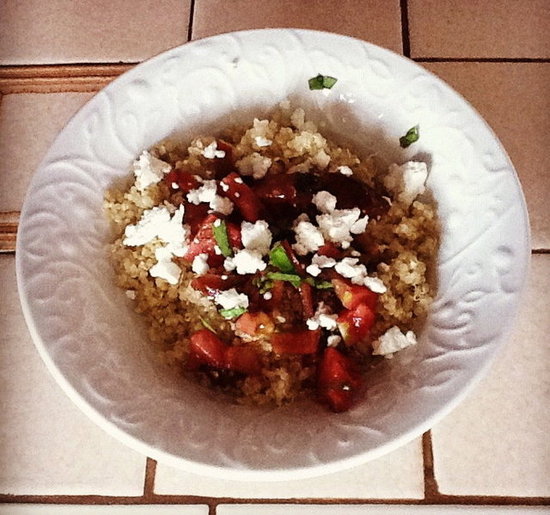 Black Krim Heirloom Tomato and Quinoa Salad (recipe makes 3 servings)
1-2 (1lb) black krim heirloom tomatoes
3c cooked quinoa (hot or cold)
1 handful of basil (I didn't want the basil to overpower the sweetness of the tomatoes but if you're a big fan of basil feel free to add more)
3oz goat cheese
1 tbsp olive oil
salt and pepper to taste
Chop tomatoes and most of the basil (save a few pieces of basil for garnish). Mix together tomatoes, basil, and quinoa. Drizzle olive oil on top and toss. If you are serving this as a dish for a party (i.e. not individual servings), add almost all of the goat cheese in small chunks. Toss, season with salt and pepper, and garnish with remaining goat cheese and basil. If you are preparing this as three individual servings, season with salt and pepper first. Then separate into three bowls and add dollops of goat cheese, saving some for garnish. Gently stir goat cheese into salad. Garnish with basil and goat cheese.
Saved to