Boca Enchiladas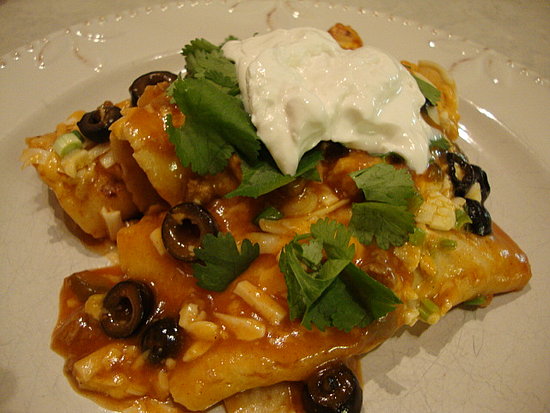 When we first went vegan, the thought of having Mexican (or Italian) food again seemed like a pipe dream, but I think that some of my favorite meals have been just those—thanks to yummy meat and dairy alternatives. Lucky for me, too, because the Husband loves enchiladas and if I didn't come up with a veg-based one, he wouldn't be fun to live with.
I've also made a seitan version, and these Boca Crumbles ones are pretty darn delish, too.  I made a pretty big batch so feel free to halve the recipe for a smaller crowd.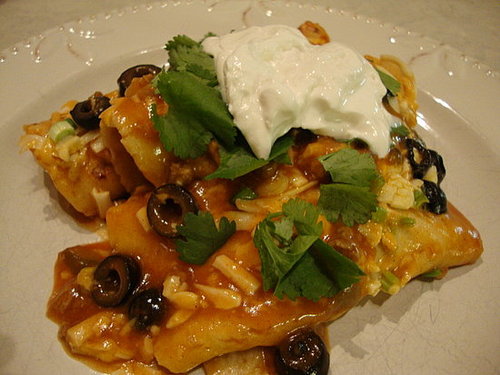 Original recipe
Boca Enchiladas
Ingredients
1 Tbs olive oil
1-12 oz bag Boca Crumbles
1 medium green bell pepper, diced small
1 small onion, diced small
1-4 oz can diced green chilies (I used mild)
3-10 oz cans enchiladas sauce (I used Old El Paso–mild)
20 LaTortilla Factory Hand Made Style Corn Tortillas (Love these!! They're a cross between a corn and flour tortilla and come in white and yellow corn—see below)
1 pkg Vegan Gourmet Monterrey Jack cheese, shredded + 1/2 C Daiya cheddar, shredded, mixed together
1 C black olives, sliced
1 bunch green onions, sliced (both green and white parts)
Optional garnishes: Tofutti sour cream, cilantro, diced avocados
Directions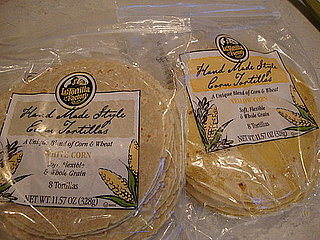 Place the rack in the middle of the oven and preheat to 375. In a large skillet heat the olive oil. Add the bell pepper and onions; saute until softened. Add the Boca crumbles and cook until heated through; stir in the green chilies.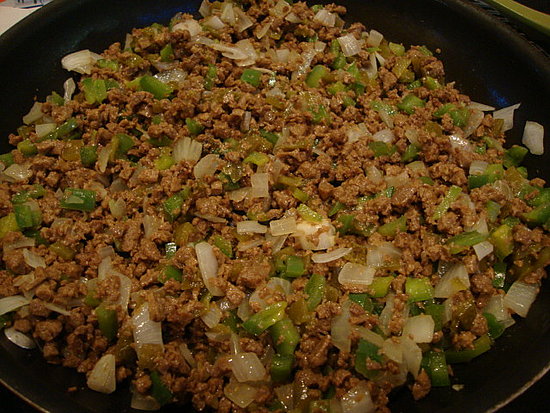 I think it helps to steam the tortillas first, but only do a couple at a time, as the bottom ones will stick if there are too many on top. In a 15″ pan (I made the mistake of using a smaller pan, so I had to use 2 pans) pour 1-1/2 cans of the enchiladas sauce on the bottom of the pan. Place 2-3 spoonfuls of the Boca mixture into the steamed tortillas; add some cheese on top.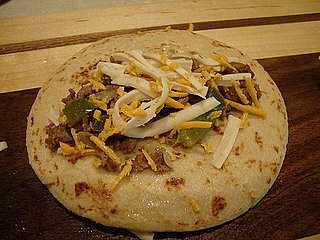 Tightly roll up the tortillas and place, fold down, into the baking dish.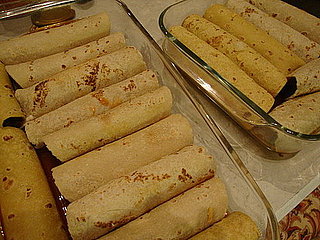 Once each tortilla is rolled, top with the remaining sauce and cheese. Sprinkle the olives and green onions on top.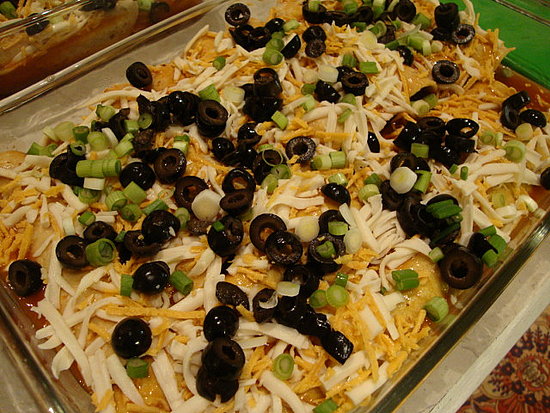 Cover with foil and bake for 20 minutes. Uncover and bake another 5 minutes.  Serve with a dollop of sour cream and cilantro and/or any of the optional ingredients. Enjoy!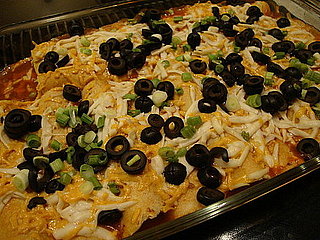 Information
Category

Other, Main Dishes
Saved to