Brazilian doughnuts (Bolinho de chuva)
Bolinho de chuva is traditional all over Brazil. It is served for breakfast or tea time. The recipe below is for the sweet version. You can also make a salty bolinho de chuva by replacing the sugar with one teaspoon of salt and some chopped green onions.
Either way, sweet or salty they are delicious. When you deep fry them they get some crunchy peaks that are fun to eat. Bolinho de chuva means "donut of rain". And they are best when fresh. So, if you want them for breakfast, prepare them in the same day, they are easy to do. You can have your Brazilian donuts done in about 30 minutes.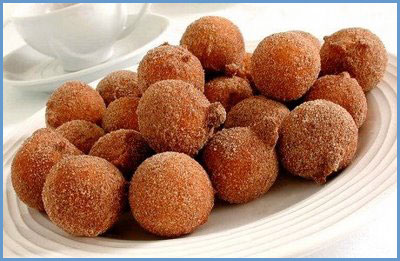 http://www.cookbrazil.com/bolinhodechuva.htm
Brazilian doughnuts (Bolinho de chuva)
Ingredients
1 cup all purpose flour
1/2 cup corn starch
2 tsp baking powder
1/2 cup milk
2 eggs
4 tbs granulated sugar
Pinch of salt
Oil to deep fry or shortening.
Sugar with cinnamon to sprinkle over.
Directions
In a large bowl, mix in the eggs, sugar and pinch of salt. While mixing with a wood spoon add the flour, corn starch, baking powder and milk until you get a batter similar to cake batter.
Preheat the fryer to 350 degrees F, using two table spoons, take a spoon of batter and scrape off the batter into the fryer using the second spoon. Fry about six doughnuts each time until golden brown, about 3 to 4 minutes, flipping just once for overall browning. (The doughnut will flip by itself). Remove the doughnuts from the oil and drain on a paper towel-lined plate. Sprinkle with powdered sugar with cinnamon and serve.
Hint: The fryer temperature is very important. If it is too hot, the doughnuts will burn outside and be doughy inside.
SERVE:
Makes about 25 doughnut balls. Kids will love it.
Information
Category

Other, Breakfast/Brunch

Cuisine

South American
Saved to