Bread and Tomato Soup
From Cookie magazine
Bread and Tomato Soup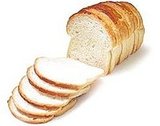 Ingredients
1 cup olive oil
3 garlic cloves, peeled and smashed
6 cups day-old white bread, without crusts, torn into small pieces
1 (28-ounce) can whole peeled tomatoes, pureed with their juice
4 cups vegetable stock (or water)
3 to 4 basil leaves, torn into small pieces
Kosher salt to taste
Directions
Heat the oil in a large, deep saucepan over low heat.
Sauté the garlic until just fragrant, then add the bread, stirring until all the oil is absorbed and the bread is toasted.
Add the tomatoes, stock, basil, and salt.
Bring to a boil, then reduce heat. Simmer until the bread breaks down, about 20 minutes. Remove the garlic and serve.
Serves 6.
Saved to