Breaded Tofu with Lemony Tomato Sauce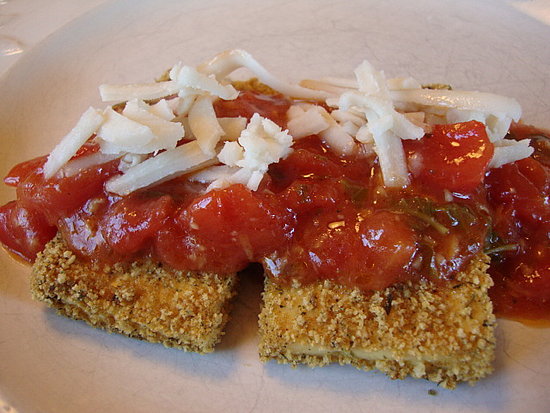 If you  like chicken parmesan  I think you'll love this healthy alternative. I really wasn't sure what to make for dinner tonight but I had tofu and diced tomatoes, so I winged it.  The Husband and Sixth Grader informed me that this meal is a "make again" and I have to agree—it was yummy, no to mention easy—a good combo.
Original recipe
Breaded Tofu with Lemony Tomato Sauce
Ingredients
1-14oz tofu, drained, pressed, and cut into 8 slices
1 packet Shake n' Bake
1/2 C vegetable broth
1 C vegan mozzarella, Vegan Rella
Sauce:
3 Tbs olive oil, divided
3 cloves garlic, minced
1-14.5 oz diced tomatoes with juice
1/4 C fresh chopped basil
1 tsp fresh chopped rosemary
1 tsp lemon zest (then slice lemon into 8 slices)
1/2 tsp onion powder
1/2 tsp dried oregano
salt and pepper, to taste
Directions
Preheat oven to 400.
For sauce: In a small saucepan, heat garlic in 1 tablespoon of the olive oil. Add tomatoes, basil, rosemary, oregano, onion powder, lemon zest, salt, and pepper, and remaining 2 tablespoons of olive oil. Bring to a boil, then reduce to low heat and simmer for 30 minutes.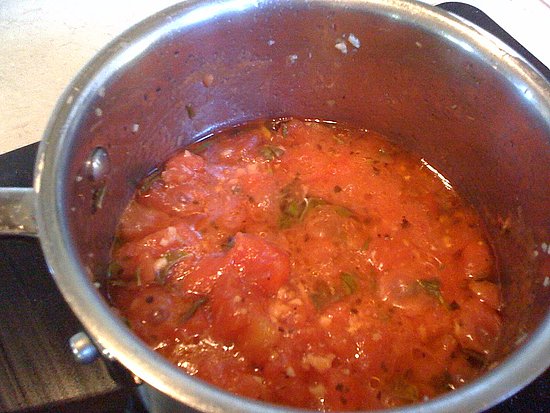 In the meantime, dip each slice of tofu into the vegetable broth, cover with Shake n' Bake, then place into a 13×9″ dish. Top each with a lemon slice.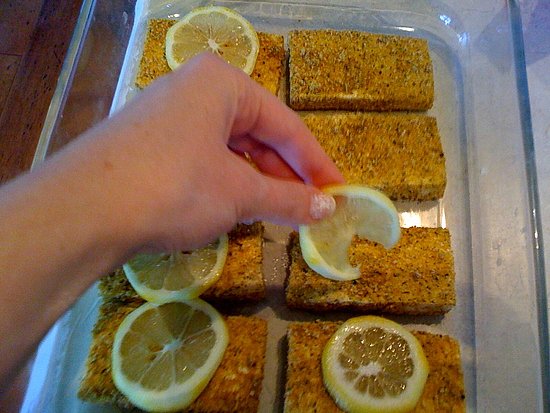 Bake for 20-25 minutes. It will basically look the same way coming out of the oven as it did going in, but the outside crust of the tofu will be crusty and crispy. The lemon slices will look a bit dried out, too. Remove the lemon slices before serving with the sauce and some very yummy vegan mozzarella.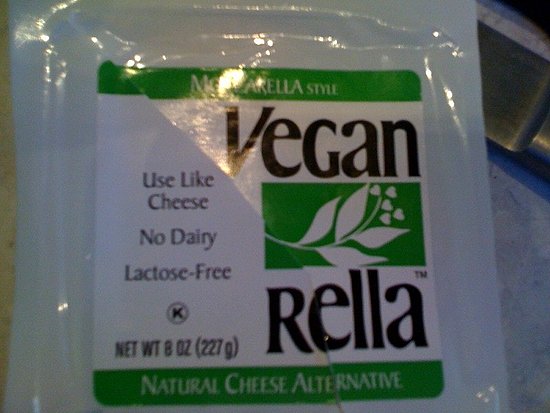 Vegan Rella (they don't seem to have a website) is excellent soy-free vegan mozzarella—very impressed with it. It's a little slimy when you first open it, but it shreds nicely and tastes great! Enjoy!
Information
Category

Main Dishes, Tofu
Saved to