Candy for a Cure?
You know what's counter productive?
 
Handing out candy for breast cancer awareness.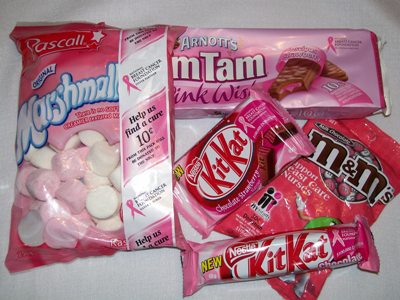 Seeing pink candies in bowls around offices, department stores, banks, etc to promote breast cancer awareness is just plain stupid. Oh and you can forget about the breast cancer awareness cupcakes, cookies and donuts too! Obviously people have not been educated enough. Eating copious amounts of processed sugars is directly related to an increased risk of getting breast (or any) cancer.
 
"Cancer cells love sugar. It's their preferred fuel. The more sugar you eat, the faster cancer cells grow. Your pancreas responds to sugar by releasing insulin, the hormone that escorts sugar into your cells. When you eat refined simple sugars, such as white table sugar, candy, cookies, or other sugar-laden foods, your blood sugar levels rise very quickly. Your pancreas responds by releasing a lot of insulin. That's not good. High insulin levels are one of the biggest risk factors and promoters of breast cancer. Women with high insulin levels have a 283 percent greater risk of breast cancer," Dr. Christine Horner states.
 
It's ironic that breast cancer awareness month and Halloween fall in the same month. Most likely people will ignore the fact that sugar feeds cancer, and chow down on candy because it's readily available. But acknowledging what you put in your mouth really is key. There are replacements for candy that will satisfy your sweet tooth and are equally as tasty.
 
Dark Chocolate Covered Fruits and Nuts (because dark chocolate is the only "candy" that has actually been deemed healthy)
Roasted Butternut, Acorn, Pumpkin Squash Cubes (the natural sugar in these fruits are perfectly healthy)
Mixed Berries (frozen or fresh)
Baked Apples and Pears
Roasted Yams with Cinnamon and/or Pumpkin Pie Spice
Not only will you be satisfying your taste buds but your "pumpkins" will be thrilled as well! So... eat REAL pumpkin for your pumpkins, instead of those little pink pumpkin candies that have sprouted up at the bank, post office, salon and even mechanic!
 
For more: http://www.examiner.com/nutrition-in-boulder/candy-for-cancer
Saved to