Broccoli and Ramen Noodle Salad
A delicious, easy to make and inexpensive salad that's sure to please for a family meal or a big get together. I made it for Easter this year and it was a big hit!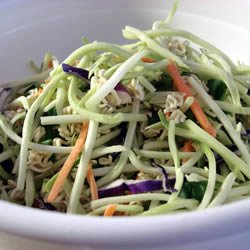 AllRecipes.com (Altered from the original)
Broccoli and Ramen Noodle Salad
Ingredients
1 (16 ounce) package broccoli coleslaw mix
2 (3 ounce) packages oriental flavored ramen noodles
1 bunch green onions, chopped
1 cup unsalted peanuts or slivered almonds
1 cup sunflower seeds
1/4 cup white sugar or Splenda
1/4 cup vegetable oil
1/3 cup vinegar or cider vinegar
2 tbsp soy sauce
1 cup dried cranberries
Dash garlic powder
Directions
In a large salad bowl, combine the slaw, broken noodles and green onions.
Whisk together the sugar, oil, soy sauce, vinegar and ramen seasoning packets. Pour over salad and toss to evenly coat. Refrigerate until chilled; top with peanuts, almonds, cranberries and sunflower seeds just before serving.
Information
Category

Salads
Saved to