Brown Sugar Banana Bread
This recipe is, without a doubt, the best banana bread in the world, and it makes absolutely spectacular French toast as well. It's healthy too!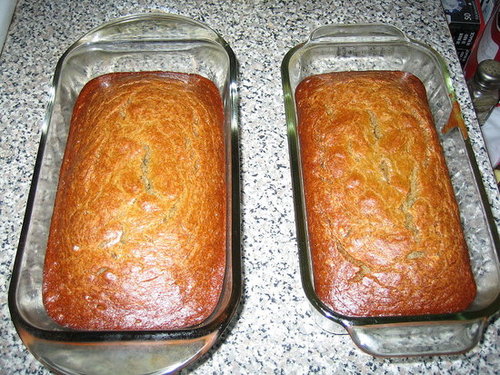 "Eating for IBS" by Heather Van Vorous
Brown Sugar Banana Bread
Ingredients
Dry:
3 1/2 cups all-purpose unbleached white flour
1/2 teaspoon baking powder
2 teaspoons baking soda
1/2 teaspoon salt
Wet:
6 organic egg whites
1/3 cup canola oil
1 1/3 cup brown sugar
1 tablespoon vanilla
3 cups mashed black bananas (6-8 bananas)*
*The bananas have to be super-ripe for this recipe. If they're not black, they're not ready.
Directions
1. Preheat oven to 350°F.
2. Sift dry ingredients (flour, baking powder, baking soda, and salt) into a large bowl.
3. Whisk dry ingredients with a wire whisk or fork until well blended.
4. In another large bowl blend with an electric mixer the wet ingredients (egg whites, canola oil, brown sugar, vanilla, and mashed bananas) until creamy.
5. Add dry ingredients to wet and with a few swift strokes of a wooden spoon blend by hand until smooth.
6. Pour into two 9x5" non-stick loaf pans sprayed with cooking oil and bake for 50-60 minutes or until a toothpick or cake tester inserted into the center of the loaf comes out clean. Cool on rack.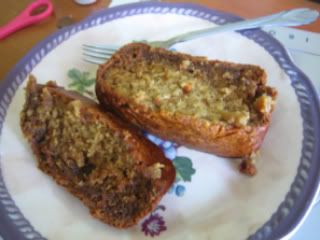 Recipe doubles or triples easily, and extra loaves freeze well.
Information
Category

Breads
Saved to