Buckwheat Pancakes with Citrus Preserves
Buckwheat flour adds great nuttiness and texture to these lovely pancakes, topped with a tangy preserve made of blood orange, grapefruit and tangerine.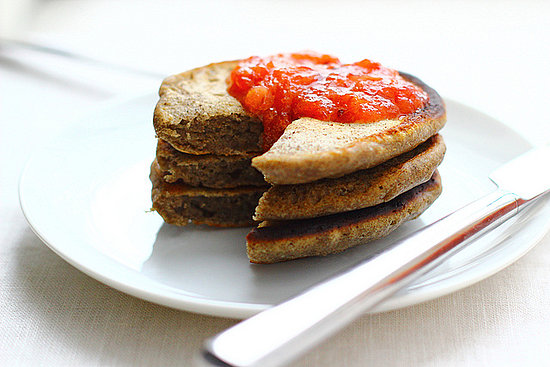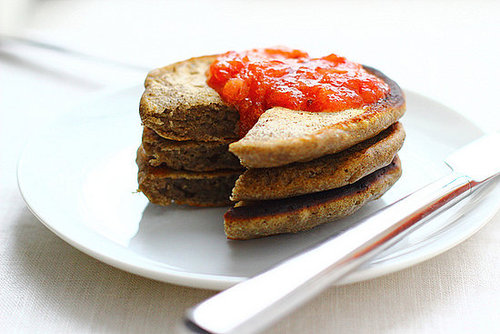 Ingredients
BUCKWHEAT PANCAKES WITH CITRUS PRESERVES
For the preserves:
1 tangelo
1 grapefruit
1 blood orange
juice of 1 lemon
3/4 – 1 cup sugar (adjust according to taste)
Note: you can substitute any citrus you'd like
For the pancakes:
1 cup buckwheat flour
1 cup all purpose flour
3 tablespoons sugar
2 teaspoons baking powder
1 teaspoon salt
1/2 teaspoon ground cardamom
1 1/2 cups buttermilk or milk
2 large eggs
2 tablespoons butter, melted
Directions
Preserves:
Make the preserves first. They will need about 1.5 hours. Peel and dice the citrus. Add to a non-reactive sauce pan, along with the sugar and lemon juice. Simmer, uncovered, for about an hour and a half, until the liquid has reduced and the jam has thickened. As it progresses, you will need to check on it and stir to make sure the fruit isn't burning. After using, refrigerate.
Pancakes:
Preheat oven to 200 degrees.
In a large mixing bowl, whisk together the dry ingredients.
In a separate bowl, combine the buttermilk, eggs and butter and whisk thoroughly, until foamy.
Slowly fold the wet ingredients into the dry with a wooden spoon, mixing only until everything has just combined. You want lumps in your batter.
Heat a large skillet over medium heat. When hot, add about 1/2 tablespoon of butter.
Using a 1/4 cup measure, add the batter in batches of about three pancakes. I found that I prefer smaller pancakes, so didn't empty the entire 1/4 cup into the skillet.
Cook the pancakes until bubbles begin to form on the surface, about 4 minutes. Flip, and cook for another 2-3 minutes.
Repeat with remaining batter, regreasing skillet as needed. Keep the cooked pancakes warm in the oven.
Top with preserves (or maple syrup!) and enjoy!
Information
Category

Breakfast/Brunch, Pancakes/Waffles
Saved to