Butternut Soup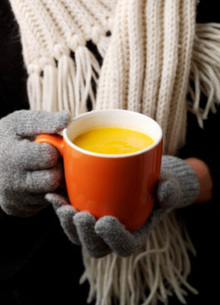 http://www.cosmogirl.com/blog/oh-no-she-didnt-butternut-squash-soup
Butternut Soup
Ingredients
1 large butternut squash (the longer the better)
2 tablespoons olive oil
Salt and pepper to taste
1 large yellow onion, chopped
1 tablespoon brown sugar
1 13-ounce can light coconut milk
1/4 cup water
Nutmeg for garnish
Directions
1) First, soften the squash so you can cut it: Find a pot large enough to hold the whole squash. Fill it with water and bring to a boil. When water is at a rolling boil, put the squash in and boil 3 to 5 minutes, until a knife easily slices the skin. Take squash out, and let it cool, and cut in half lengthwise.
2) While squash is cooling, preheat oven to 375 degrees F. Use a spoon to scoop out the seeds. Rub the squash with 1 tablespoon olive oil and sprinkle with salt. Put the squash, cut side up, on a cookie sheet and place in oven for an hour.
3) When the hour is almost up, put the remaining olive oil in a pan and turn heat to medium. Add the chopped onion to the pan, cooking the onion until it's translucent and soft. Add the brown sugar and continue cooking for about three minutes. Turn off heat.
4) When squash is finished cooking, scoop out the flesh with a spoon and put it in a blender. Add the onion-brown sugar mixture, coconut milk, and water. Blend until smooth. Add salt and pepper to taste, and sprinkle each bowl with a dusting of nutmeg.
Information
Category

Side Dishes, Soups
Saved to