Butternut Squash Soup Recipe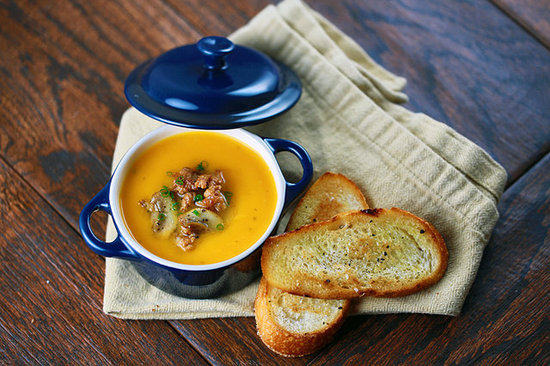 I want to share one of my favorite recipes from my experience called Zuppa di Zucca, or butternut squash soup recipe. The winter vegetables are in full bloom and squash is in season which helps make this soup even more exquisite! This is the perfect Tuscan soup to try on those colder winter nights.
Whenever I make this soup, I like to make a salad with fresh vine ripe tomatoes and greens with a high quality extra virgin olive oil and balsamic vinegar dressing. If you have some crusty bread, make some homemade croutons and sprinkle them with salt and fresh ground pepper. Pair with a delicious Tuscan red wine and this meal is soul satisfying.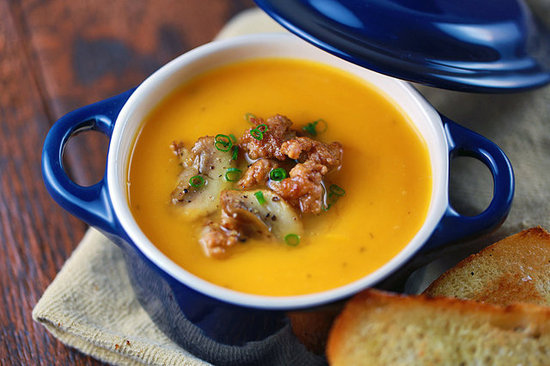 Yum! I hope you enjoy!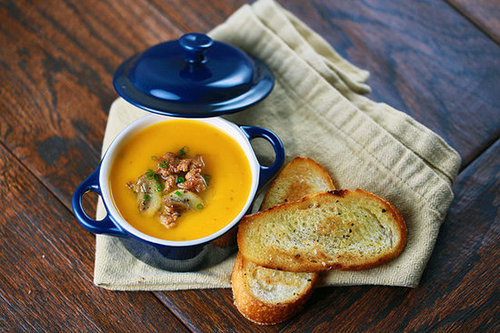 Jessica Gavin
Butternut Squash Soup Recipe
Notes
The perfect hearty and flavorful Tuscan inspired butternut squash soup recipe with Italian sausage and rosemary.
Ingredients
1/2 yellow onion, medium dice (¼" x ¼")
Olive oil, as needed
1 butternut squash, 1 inch cubes
2 sprigs rosemary
Salt, to taste
Pepper, to taste
3 cups of chicken stock or broth
8 white mushrooms, thinly sliced
4 cloves garlic, peeled and minced
2 Italian sausages (removed from casing)
Chives, sliced for garnish (if desired)
Directions
Heat a large pot over medium heat, then add enough olive oil to thinly coat the surface. Add onions and sauté until translucent, approximately 4 minutes.
Add squash, rosemary and 1-teaspoon salt, stir, then cover. Cook over medium low heat until squash is tender, approximately 25 to 30 minutes. Check every 10 minutes, and stir if needed.
Remove rosemary and puree ingredients in blender or with immersion stick blender until a smooth puree consistency is achieved. Add the puree back into the pot if removed. Gradually add the chicken stock or broth to the squash puree, a half-cup at a time and stir into the pureed squash. Add enough liquid until a desired consistency is reached. Adjust the soup seasoning with salt an pepper to taste. Cover and keep the soup warm over low heat.
Heat a medium sauté pan over medium heat, then add enough olive oil to thinly coat the surface. Add the garlic and mushrooms, ensuring not to brown the garlic. Add to the pureed soup once cooking is complete.
In the same pan over medium heat, add the sausage, breaking down into smaller pieces and cook through. Add to the pureed soup.
Reheat the soup if needed, taste and adjust seasonings if needed.
Garnish the soup with sliced chives.
Information
Category

Soups/Stews, Stew

Cuisine

Italian
Saved to