Butterscotch Haystacks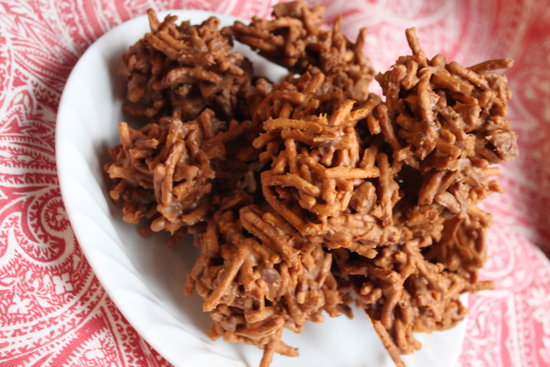 These easy butterscotch treats are a fun twist on traditional holiday cookies. They're a hit with kids and adults alike! Just butterscotch chips, Heath bar bits and chow mein noodles- what are you waiting for?!
Ingredients
5 oz can chow mein noodles (available in the ethnic aisle of most supermarkets)
11 oz package butterscotch morsels
8 oz package Heath baking bits, OR 6 chopped Heath bars
Directions
a baking sheet with wax paper.
In a microwave-safe bowl, heat the butterscotch chips until melted- about 3 minutes on 50% power should do the trick, but stir after every minute.
In a large bowl, toss together the chow mein noodles and Heath bits. Pour in the melted butterscotch and use a rubber spatula to stir until everything is evenly coated.
Working quickly, use a soup spoon to drop "stacks" of the mixture onto the prepared baking sheet. Try to push in the edges so that no noodles stick out too far.
Refrigerate for about 15 minutes, or until the haystacks are solid. Store in an airtight container.
Information
Category

Desserts
Saved to