Cabbage With Candied Pecans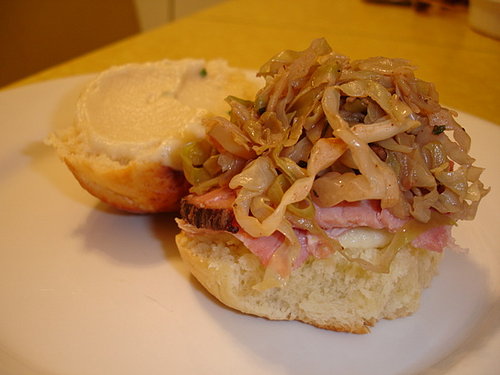 Original Recipe
Cabbage With Candied Pecans
Ingredients
1 head of green cabbage, shredded
3/4 cup coarsely chopped pecans
3 tablespoons of butter
3 tablespoons of sugar
1 1/4 teaspoon Kosher salt
1 cup unfiltered apple juice or apple cider
1 tablespoon chopped fresh thyme
Freshly ground black pepper
Directions
First, cook the pecans: Melt 2 tablespoons butter in a skillet over low heat. Add pecans and sautee, stirring often, for 5 to 10 minutes, until they just start to brown.
Add 3 tablespoons sugar and 1/4 teaspoon salt. Continue stirring until sugar melts and pecans are coated and glazed. Remove from heat, let cool on parchment paper.
In a separate skillet, melt 1 tablespoon of butter in a skillet over medium-low heat. Add the apple juice or cider, followed by the shredded cabbage.
Cook cabbage for about 10 minutes or until it wilts and turns a vivid green. Then add 1 teaspoon salt, plus pepper to taste.
Add pecans and fresh thyme, toss with cabbage, and stir for an additional 2 minutes. Drain off any remaining liquid and serve.
Serves 8.
Information
Category

Vegetables, Side Dishes
Saved to