Caramalized Banana Tart (Tart Tatin)
Hi guys, here's my latest sweet recipe that turned out really delicious.
I know its been a while since I've posted a recipe, I have been cooking though, the recipes just haven't been pretty enough to post or just not good enough.
I always like to post recipes that are ACTUALLY GOOD, always tested just for that, so you guys can always make delicious foods from my recipes. At least I hope they all come out as good as they did for me.
I'll tell you the things I've been making that didn't make the posting cut.
I made this banana upside down cake, that turned out pretty good, not amazing good, but good.
Still, the presentation wasn't the greatest, so I decided not to post it.
Another thing I made not too long ago was homemade pasta.
I'm still a little undecided as to posting this recipe, it came out really good, but again, the presentation and photos weren't that greatest...
Nevertheless, here's a successful recipe I'm sure everyone will love: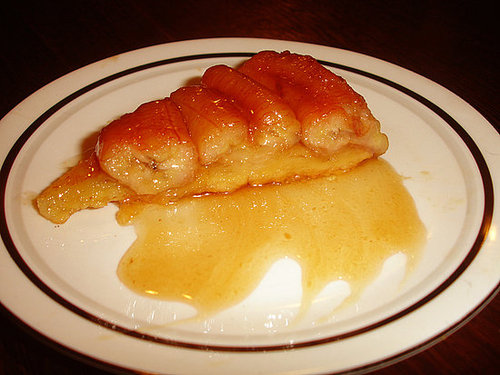 claudia cozinha magazine (june, 1997)
Caramalized Banana Tart (Tart Tatin)
Ingredients
For the tart crust:
1 2/3 cups flour
1/2 cup, plus 3 tbsp chilled butter
1 egg
1 or 2 tbsp cold water
2 tbsp sugar
pinch of salt
For the filling:
1/2 cup sugar
1 1/2 tbsp butter
8 or 10 medium bananas (just enough to cover the pans surface)
For the caramel sauce:
3/4 cup sugar
1/4 cup water
Directions
For the crust:
In a bowl, mix the flour with the butter and smash together with a pastry knife, until you have a sandy look and texture. Add in the egg, water, sugar and salt.
Mix together until you have a firm dough, don't mix too much.
Form the dough into a ball and wrap with some cling film, leave it in the fridge for now.
For the filling:
Preheat your oven to 430ºF/220ºC.
Take a 10 inch/25 cm pan and add in the sugar and butter, take this to the stove and heat it up.
Let the the sugar and butter caramelize until its a nice dark butterscotch texture, spread this all around the pans surface and add your bananas, whole.
On a floured surface, roll out the dough and place it on top of the bananas in the pan.
Cut off any excess dough, make sure you have a flat surface, with no dough in the edges coming up.
Make a couple of slits, for the vapor to come out while baking.
Take your tart to the oven and bake for 30/35 min, or until golden.
If your using a removable pan bottom, place a tray, lined with wax paper, on a rack beneath the rack you'll use to put your tart on.
This way the caramel that will escape out of the pan (always does), will land on the tray, not your poor oven.
Once its done, carefully place a plate on top of the pan and with both hands flip it over.
Your bananas should be whole and caramelized.
To make the caramel sauce:
In a small pan, mix the sugar with water.
Take it to a medium heat and let it boil until its bubbly and thick. DO NOT EVER STIR.
Now just dump it all on top of your tart (that's been cooling for 30 minutes).
Watch it sizzle and bubble, it'll make a hard caramel "protection" to the bananas.
Done! Enjoy! :D

Information
Category

Desserts, Pies/Tarts
Saved to