Caramel Corn
Does the world need another caramel corn recipe? Probably not, but this is easy and turns out amazing every time I make it. This time of year caramel corn replaces our regular popcorn as we watch all those holiday favorites on DVD bundled in our blankets,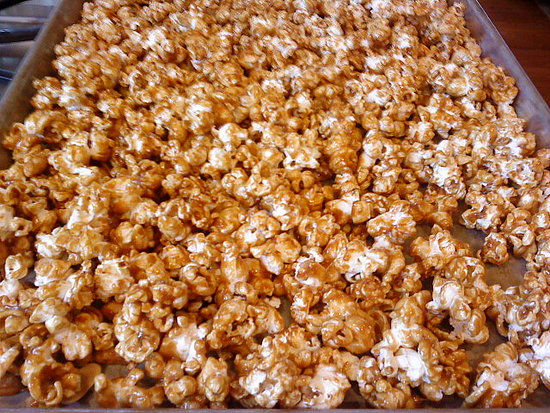 as the rain comes down outside.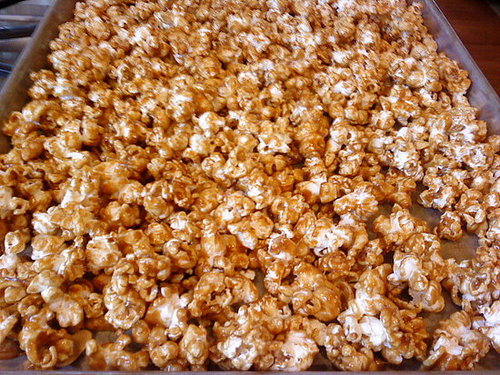 Ingredients
8 cups popped popcorn
Mixed nuts or peanuts (optional)
3/4 cup packed light brown sugar
6 Tablespoons butter
3 Tablespoons light corn syrup
1/4 teaspoon salt
1/4 teaspoon baking soda
1/4 teaspoon vanilla
Directions
In a heavy bottomed medium size (or slightly larger) saucepan, cook sugar, butter, corn syrup and salt over medium heat stirring until it boils. Then cook without stirring for 5 minutes (reduce heat a little if it starts to boil over or looks like it might burn).
Remove from heat and add baking soda and vanilla. Quickly and carefully stir and pour over popcorn (and nuts) in roasting pan. Quickly stir to coat (it will be a little spotty but it covers more evenly after baking).
Bake in a 300 degree oven for 15 minutes (or a little less), remove from oven and stir to coat evenly. Place back in the oven for another 5 or 10 minutes. Remove from oven, stir again then carefully dump onto two cookie sheets, breaking up the larger clumps with a wooden spoon. Allow to cool completely before storing in tightly sealed containers.
Information
Category

Snacks
Saved to