CardFunk - Animated Halloween Party Invitations
While the kids go trick-or-treating this Halloween, the adults go out and party. One of the most amazing parties can be found in the Halloween season when everyone is dressed so outrageously, you can get away with wearing anything. If you're hosting the party, the biggest challenge that you will have to overcome is not about the food or the venue or the theme but it is actually about getting as much people to come to your party. What is a party without guests, right?
Now instead of sending a boring email with a wall of text as an invitation, create a better impression for your party by sending animated Halloween Party invitations! Why send a boring email when you can send something thoughtful, fun and customized? Upload photos of the hosts and put them in dancing zombies performing a la Michael Jackson's thriller music video. You won't only get a few laughs, you will get people to come to your party too!
So don't just send Halloween party invitations this season, send easy to make animated Halloween party invitations for free.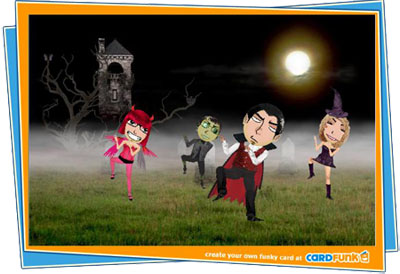 Create your own Animated Halloween Party Invitation
After creating your own Invitation, you can go right ahead and post the details in the rest of the email. The important thing here is being able to catch their attention and creating a good enough impression for them to be interested in going to your party.
Of course, you can also use this Halloween thriller card for something else besides party invitations. You can use this as a normal greeting to your loved ones from far away. :)
Saved to