Cardamom Red Velvet Cupcakes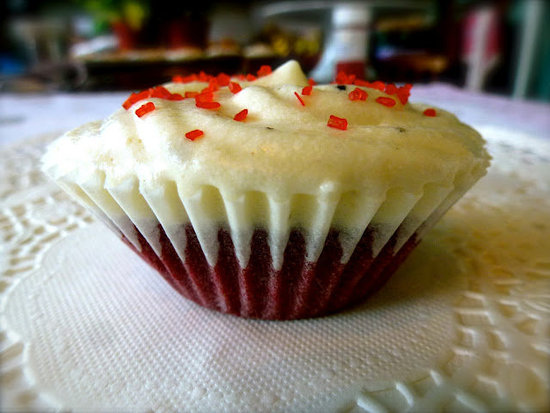 I've been trying to perfect a red velvet cupcake for a while now and up until recent I thought it would be my culinary version of the fabled unicorn. No matter how much food colouring I put into the batter the cupcakes would always come out pink. Then I came across some concentrated food colouring paste at my local grocery store. Finally I was able to make red velvet cupcakes that were actually red! 
The original recipe came from the Hummingbird Bakery Cookbook but I've tweaked it a bit to make it taste better. They say that the proof is in the pudding and this was certainly the case as all 21 cupcakes vanished before the weekend was over! I added espresso powder to enhance the chocolate taste and gave it an Indian twist with the additional of freshly ground cardamon. The cream cheese frosting also got a little bit of cardamon which reminded my sister-in-law of a popular Indian sweet dish called Shrikhand. I may post a recipe on how to make Shrikhand at some point in the future, so look out for it. In the meantime, I hope you enjoy my Cardamon Red Velvet Cupcakes. 
Check out the recipe here.
Saved to