Caring for Naturally Wavy Hair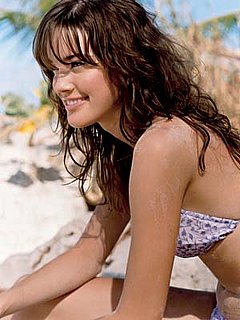 Though I may be clueless when it comes to fancily styling hair, with all the research I've done I take pride in my knowledge of caring for it, and I must say that the lack of resources regaurding naturally wavy hair is quite disappointing.  Even with the Curly Girl method, which is still fairly new, wavy hair seems to be lacking in information.  So while I'm still no guru of hair, maybe sharing my methods of caring for my waves will be helpful to someone, somewhere. 
Shampooing
When it comes to shampooing I like to stick with the suggestions of Lorraine Massey, author of Curly Girl.  I avoid silicones and Sodium Laurel/Laureth Sulfate, and I cut back on shampooing as much as I am comfortable with.  My shampoo of choice?  Asian Pear & Red Tea Color Protecting Shampoo for Dry, Damaged Hair by Nature's Gate.  I am careful when shampooing, concentrating on my roots as opposed to my ends, and I never pile the hair on top of the head, which can lead to some serious tangling.
Conditioning
I condition every time I shampoo, and occassionally I will skip the shampoo and go straight for the conditioner for a co-wash.  Co-washing, short for conditioner washing, is the act of using conditioner in place of shampoo.  When you co-wash, be sure to gently rub your scalp for approximately 120 seconds (2 minutes).  This will ensure that your hair gets clean.  My conditioner of choice?  Asian Pear & Red Tea Color Protecting Conditioner for Dry Damaged Hair by Nature's Gate.
Styling
Once I've rinsed the conditioner from my hair and am ready to get out of the shower, I very lightly squeeze the water out of my hair.  I want my hair to be halfway between damp and soaking wet when I get out of the shower.  I do not towel dry my hair or wrap a towel around my head.  I immediately add a bit of conditioner to my hair, avoiding the roots and concentrating on the ends (for this I use the same conditioner that I stated above).  I then use a wide-toothed comb to part and gently comb my hair.  Next I use a quarter-sized dallop of Aubrey Organic's B-5 Design Gel and distribute it evenly throughout my hair in a finger-combing method.  I then use a quarter-sized dallop of Herbal Essences Set Me Up Gel (which is surprisingly free of silicones) to gently scruch the ends of my hair.  I don't flip upside down and I don't attempt to encourage my curl too much.  Because my waves will only curl to a certain amount, over-encouragement just leads to frizz.  For the next few hours as my hair air-dries I avoid touching my hair like the plauge.  Once my hair has dried, I gently scruch the ends and finger-comb my roots to work out any stiffness for soft, touchable waves that look effortless.
Special Treatments
I love using olive oil as a hair mask.  I take a few teaspoons, distribute evenly, and leave in over night.  I also lightly coat my hands and very gently scrunch olive oil into my ends on days that my hair feels a bit dry.  By using such a small amount and focusing it on only the ends of my hair I can wear this all day without that, "I really need to wash my hair," look.  If your hair ends up looking oily, then you've used too much.
Saved to