Carrot Cake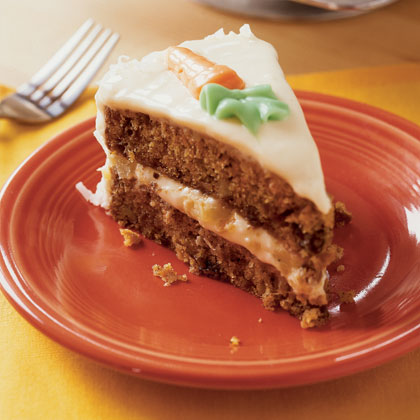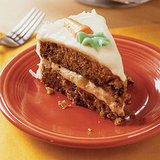 Ingredients
FOR THE CAKE
1-1/4 cups flour
1 cup sugar
1 teaspoon baking soda
1/2 teaspoon each of baking powder, salt, cinnamon, nutmeg, and ground ginger
1/4 teaspoon ground cloves
3 large eggs
3/4 cup vegetable oil
1 teaspoon vanilla extract
1-1/4 cups finely grated carrots
1/2 cup each of finely chopped walnuts and chopped raisins
FOR THE ICING
12 ounces regular cream cheese, at room temperature
4 tablespoons butter, softened
1-1/2 teaspoons vanilla extract
3 to 3-1/2 cups sifted confectioners' sugar
Food coloring
FILLING AND GARNISH
3/4 cup crushed pineapple, well drained
1-1/2 cups sweetened flaked coconut (optional)
Directions
Prepare two 8- by 2-inch round cake pans. Trace around one of the pans to create 2 waxed paper circles and cut out the circles. Lightly grease the pans and line them with the waxed paper circles. Then grease the papers and dust the pans with flour, knocking out the excess. Heat the oven to 350 degrees.
Sift together the flour, sugar, baking soda, baking powder, salt and spices into a large bowl. Make a well in the center and add the eggs, oil, and vanilla extract.
Using an electric mixer on low speed, beat the liquids briefly in the well, then blend the entire batter on low speed just until evenly mixed.
Using a rubber spatula, fold the carrots, walnuts, and raisins into the batter between the cake pans, smoothing it with a spoon.
Bake the cakes on the center oven rack for about 25 minutes, until toothpick inserted into the center of the layers comes out clean. Transfer the pans to a large cooling rack. Cool the layers in the pans for 10 minutes, then run a butter knife around the edges to loosen them.
Remove each cake from its pan by topping the pan with a wire rack, holding the an and the rack together, and inverting the whole ensemble. Then slowly lift the pan from the cake and peel away the waxed paper. Let the cakes cool completely (at least 1 hour) before icing them.
Prepare the Icing: Using an electric mixer, beat the cream cheese and butter in a bowl until smooth. Blend in the vanilla extract.
Add the confectioners' sugar, about 1 cup at a time, beating until smooth and fluffy after each addition. Reserve about 2/3 cup of the icing, dividing it between 2 small bowls. Cover and chill the bowls.
Decorate the Cake: Place the first cake layer on a serving plate. Smooth a generous layer of the icing over the top (if the icing is too soft, chill it for about 30 minutes before continuing). Then spread the crushed pineapple over the icing.
Place the second layer on top of the first, then ice the top and sides of the cake. Cupping some of the coconut in one hand, gently pat it onto the side of the cake, working your way around the whole perimeter.
For the finishing touch, dye one of the reserved batches of frosting orange and the other green. Use a pastry bag to pipe carrots on top of the cake. Store the finished cake in the refrigerator until you plan to serve it, then let it sit at room temperature for 20 to 30 minutes before slicing. Makes 8 to 10 servings.
Notes:
Cook's DictionaryFold: This method of blending is typically used to mix ingredients, such as grated carrots or berries, into a batter without chopping or crushing them. Instead of stirring or beating the batter, you use a spatula to gently turn or "fold" it until all the ingredients have been evenly incorporated.
Saved to