Cassis-Cherry Marshmallows, a New Flavor for a New Year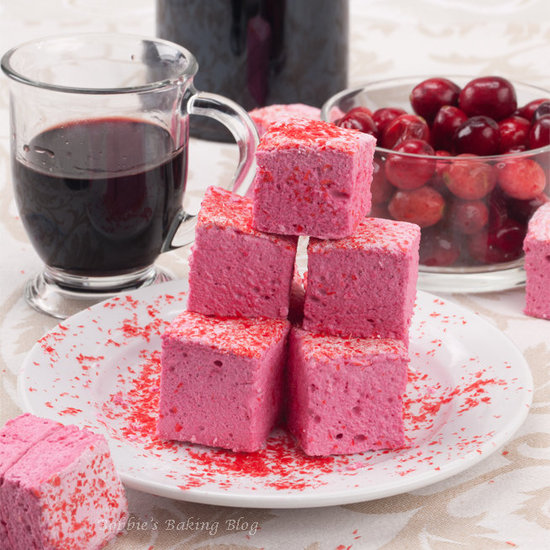 This past December Sydney and I created a heavenly Very Cherry Berry Coffee drink. As I sipped on my warm delicious spirited coffee I asked Sydney if she thought we might be able to turn the flavor into a Dreammallow (the marshmallows are so light they taste like a dream). We played around with cherry, red, and black current flavors; the Cassis-Cherry Marshmallows were born.
Sydney and I felt like "mad" scientists in the kitchen testing combinations of flavors. Whenever Sydney and I are testing new recipes we have a brilliant time together. While we are playing (testing) recipes the sky is limit. The only variable is our imagination; it either holds us back or aids in a recipe we are proud to share. Lucky for me, Sydney is quite flexible when we are tossing ideas out. I won't claim every idea is a winner, but we are alway entertained by one other and laughter can be heard down the street. Whenever DF is home he feels as if he just missed the set up line to a great joke; generally we are laughing so hard tears are pouring from our eyes and all he can do is shake his head.
Cassis-Cherry Marshmallows are exquisite enough for Valentines Day; Sydney and I invite you to Bobbie's Baking Blog for entertainment and add a new flavor marshmallow to your recipe box.
Saved to