Celebrity Tattoos
*Taken from Celebrity Ink*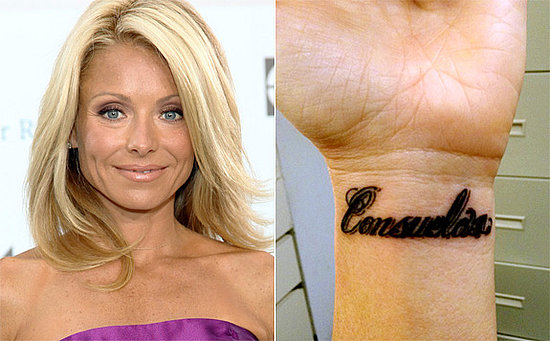 Kelly Ripa may not have legally taken her husband's name, but she now has it permanently inked on her body. During "Live! with Regis and Kelly" on Feb. 24, the talk show host showed off the new ink on her left wrist that bears her husband Mark Consuelos' last name in cursive writing. Ripa, who already sports a rose and heart tattoo on her left ankle, got inked at Saved Tattoo in Brooklyn, according to The Huffington Post.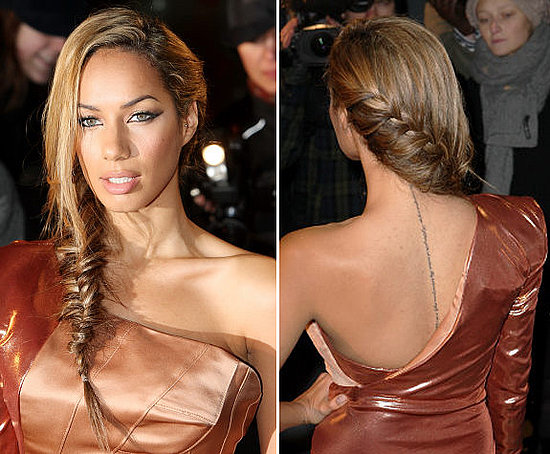 Leona Lewis is rapidly shedding her good girl image, and a tattoo is clearly a step in the bad girl direction. The British songstress and "X-Factor" winner debuted a tribute to her favorite animal, the horse, inked down her spine at a charity fundraiser in mid February. The tat, which runs from the back of her neck to the middle of her back reads, "Their beauty captures every eye, a gift from God for all mankind, they lend us wings so we may fly, to ride a horse is to ride the sky."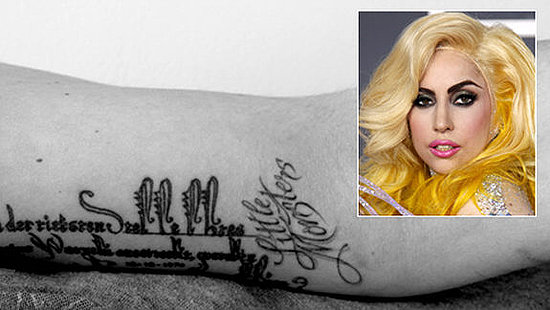 There's no question about it - Lady Gaga loves her fans. The eccentric singer wrote on Twitter that she had the words "Little Monsters" - her nickname for her fans - tattooed on her arm."look what i did last night. little monsters forever, on the arm that holds my mic," she tweeted Tuesday. "chola tattoo from shamrock, so proud."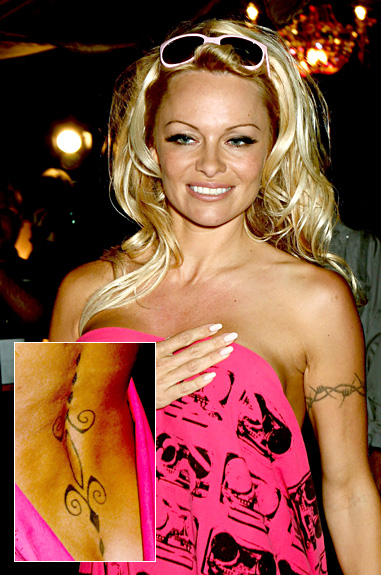 Pamela Anderson isn't exactly the epitome of grace and class -- but we love that about her. So when she showed off her down-to-there decorative back tattoo while wearing just a pink sheet at New Zealand Fashion Week, we probably shouldn't have been surprised.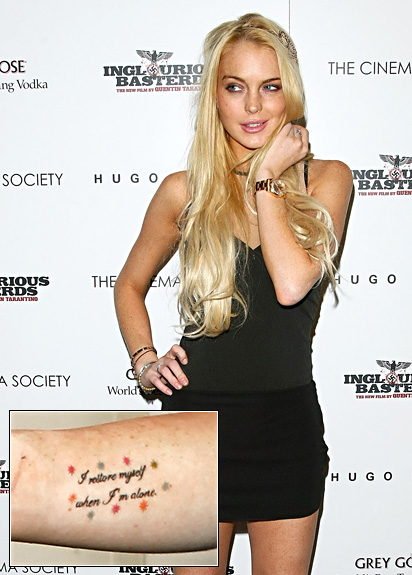 Anyone who's glanced at the Internet in, oh, the last several years knows that Lindsay Lohan is obsessed with Marilyn Monroe. In fact, in a now infamous photo shoot, Linsday aped the movie goddess' famous last session with photographer Bert Stern. After Lindsay's break-up with Samantha Ronson in April, she put her love for Marilyn in writing, on the tender inside of her wrist - because that would obviously cheer her up. The sentiment, however, is a happy one, reportedly a quote from Ms. Monroe herself: "Everyone's a star and deserves the right to twinkle." She recently followed up with another tattoo, with a more somber - but still positive! - Monroe quote: "I restore myself when I'm alone." Both are surrounded with little multi-colored stars, like the kind you used to doodle in your high school math notebook. At least Lindsay is not naive enough to think Marilyn's life was all rosy. Lindsay called her a "prime example of what this industry can do to someone."We can very easily think of another one.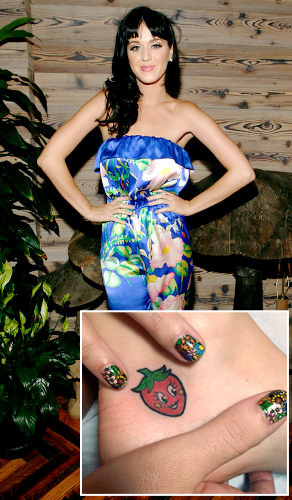 Katy Perry debuted her new strawberry tattoo on Twitter, tweeting, "my new little friend... what shall be her name?! :)"
Legendary tattoo artist Mario Barth, CEO of Starlight Tattoo, works on Sylvester Stallone. Barth has won 200 international awards in tattooing including "Tattoo Artist of the Year" eight times before retiring from the competitive circuit.

Saved to