Champagne and Roses Sugar Cookies; A Sweet Romantic Treat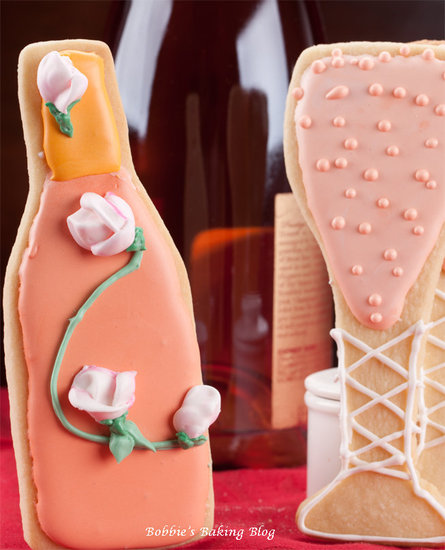 With Valentine's Day just a month away, Sydney and I found ourselves discussing what our version of a romantic night would be. We both agreed a nice bottle of champagne with raspberries in the glass was a nice start. Both both of us have had the opportunity to indulge in our favorite champagne with a special person. I was completely blown away: as we were confining to each other I realized we had describe almost identical versions. The brands of champagne  were different.
DF for the past 25 years has bought home a bottle of  Belle Epoque. Our introduction to this prodigious delightful bottle of French bubbly was our wedding night. A unique man, who has become a good friend, had a bottle on ice waiting in our honeymoon suite the night we wed. It has become a tradition to indulge on this champagne every Valentine's Day. I wanted to create a sugar cookie that resembled  Belle Epoque Rosé .
Even at 2:00 am Bobbie and Sydney are completely dedicated to sharing their fun together as they bake champagne almond sugar cookies at Bobbies Baking Blog
Saved to