Your Guide To Barefoot Running Shoes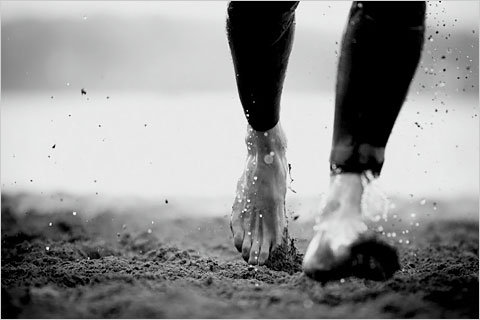 Barefoot running has become the latest to-do in running. With the popularity of Barefoot Ted and the book
Born To Run
the ineffectiveness of traditional running shoes has become common knowledge. A traditional shoe sends stress and impact up your leg to your hip and pelvic area and weakens the small ligaments in the arch of your foot. Barefoot running shoes allow for flexibility and natural footfall, which leads to improved stride and health.
As an avid runner, it's a smart idea to explore the idea of a barefoot style running shoe. Unfortunately, popular barefoot shoes such as those made by Vibram can run you a hundred bucks a pop. Check out your guide to cheap barefoot running shoes and hit the pavement with a little more cash in your pocket and a spring in your step!  
Glove running shoe:
This shoe, built for a woman's foot, is versatile, with minimal fabric or padding. Perfect for street or trail running.
Campor.com
– Merrell Barefoot Power Glove Women's Running Shoe
Normally: $109.99
You pay: $54.96
 
Standard Minimalist: With the hype of barefoot running came a variety of styles, made to fit any runner. Ultra-lightweight, this shoe will give you flexibility while maintaining a traditional look.
Zappos.com – New Balance WT101
Normally: $74.95
You pay: $63.71
 
New Style Minimalist: This style of minimalist running shoe is a true hybrid between a toe shoe and traditional. With the fit of a toe shoe, you'll feel agile and comfortable, without the actual toe style.
ZEMGEAR.com – ZEMGEAR Women's 360 Round
 
FiveFingers: This is the most popular barefoot running shoe on the market. Built with a TCI non-marking rubber sole, you are sure to get the flexibility and comfort you're looking for.
Citysports.com – Vibram FiveFingers Sprint
Normally: $80.00
You pay: $25.00
 
EvoSkin: Made of silicon, there is practically nothing separating you from nature with this shoe. As flexible as you can find, this running shoe is made with a strong grip for comfortable trail runs.
Amazon.com – Inov-8 EvoSkin 5 Toed Silicone Shoe
Normally: $69.98
You pay: $59.98
 
Now you have no excuse – so get online, and order your pair today. You'll feel a difference in your running right away. For more running tips, tricks and advice, visit WillRunForFood.net.
 
Photo credit: well.blogs.nytimes.com
Saved to