Chicken Lettuce Wraps with Sweet and Spicy Sauce
This is my favorite lettuce wrap recipe that I have made so far! I do make it a little different though. The recipe is printed exactly as found which is great for a no cooking required cold appetizer. I serve them warm as a main dish and have included the changes that I made to the recipe after the original preparation.
I found this recipe on myrecipes.com but it is printed originally in Cooking Light, JUNE 2006, Nancy Hughes
Chicken Lettuce Wraps with Sweet and Spicy Sauce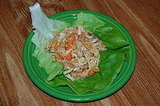 Ingredients
* 3 tablespoons unsalted, dry-roasted peanuts
* 3 tablespoons hoisin sauce
* 2 tablespoons cider vinegar
* 2 teaspoons low-sodium soy sauce
* 1 teaspoon bottled ground fresh ginger (such as Spice World)
* 1 teaspoon dark sesame oil
* 1/2 teaspoon crushed red pepper
* 1/2 teaspoon bottled minced garlic
* 2 cups packaged cabbage-and-carrot coleslaw
* 1 cup canned sliced water chestnuts, drained
* 8 ounces grilled chicken breast strips (such as Louis Rich)
* 12 Bibb lettuce leaves
Directions
Place peanuts in a small nonstick skillet over medium-high heat; cook 3 minutes or until lightly browned, shaking pan frequently. Remove pan from heat; set aside.
Combine hoisin, vinegar, soy sauce, ginger, oil, pepper, and garlic in a small bowl, stirring well with a whisk.
Combine peanuts, coleslaw, water chestnuts, and chicken in a medium bowl; toss well.
Spoon about 1/3 cup chicken salad in the center of each lettuce leaf; top each with 2 teaspoons sauce. Roll up; secure with a wooden pick.
Nutritional Information
Calories: 197 (34% from fat)
Fat: 7.4g (sat 1.4g,mono 2.9g,poly 2.1g)
Protein: 16.5g
Carbohydrate: 18.2g
Fiber: 3.4g
Cholesterol: 37mg
Iron: 1.9mg
Sodium: 825mg
Calcium: 40mg
Yield: 4 servings (serving size: 3 wraps)
*** Here are my changes (I always double this recipe both sauce and ingredients)
-Prepare the sauce the same was as above. (this also makes a nice dipping sauce or sauce base for noodles as well!)
-I prefer to chop up my chicken and water chestnuts into bite size pieces
-Once the peanuts are browned I add the all the ingredients to a pan over medium heat. Top it with the sauce and stir until heated through and serve with lettuce leaves.
-If you prefer not to use the already cooked chicken strips, feel free to substitute a couple of cooked chicken breasts cubed instead. Hormel does make Natural Choice Carved Chicken Breast Grilled with no preservatives that I thought was pretty good and it saves you a lot of time. If you use the already cooked strips, I found that they only came in the 6oz. size and in that case I just used two packages for the doubled recipe and it worked just fine.
-For the coleslaw, in a doubled recipe I use the whole bag of Fresh Express tri-color coleslaw. This is also a great way to stretch out the recipe making it more budget friendly!
-For the bibb lettuce, I am a fan of Live Gourmet Butter Lettuce - it's so fresh!!
Saved to