Chicken Soup (Canja)
"Canja de galinha" is a typical Brazilian soup.
It gives you strength when you have a cold or when you are recovering from a cold.
:)Tips:
-Instead of chicken breast, you can use any chicken part that you want.
-Three pieces of chicken parts are enough for this recipe.
-To remove the skin of the tomato, make a cross with a sharp knife at the bottom of the tomato and put the tomato in boiling water for some seconds. The skin will begin to split around the cross and it can be easily removed.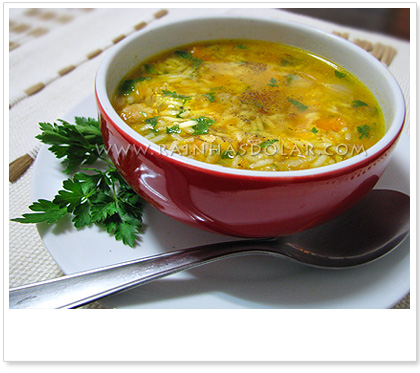 http://www.gastronomiabrasil.com/Gastronomia/Receitas_Brasileiras/Sopas_e_Cremes/Canja_de_Galinha.htm
Chicken Soup (Canja)
Ingredients
1 chicken breast cut into pieces
1 tablespoon of oil
1 small chopped onion
1 clove of crushed garlic
2 potatoes cut into cubes
1 carrot cut into cubes
1 chopped tomato (peeled/seedless)
½ cup of rice
chopped parsley and spring onion
2 liters of boiling water
salt and black pepper to taste
Directions
1. Wash the chicken and dry it with a paper towel.
2. Heat a tablespoon of oil in a saucepan.
3. Add the onion, the garlic, the chicken and stir-fry until golden brown.
4. Add the potato, the carrot, the tomato, the parsley, the spring onion, the rice and mix well.
5. Add the water, the salt, the pepper and let it cook under medium heat for 30-40 minutes or until the chicken and the rice are tender.
6. Put the soup in a bowl and serve it.
Information
Category

Other, Soups/Stews

Cuisine

South American
Saved to