Chicken Wraps
For about the same price as a fast-food version, you can make your own chicken wraps at home – but better and much faster! Using whole wheat tortillas and lots of vegetables keeps this meal healthy - and remember to top it off with some salsa. Yum!
Makes 6 servings
Prep time: 10 minutes
Cook time: less than 10 minutes
Nutrition information per serving: 290 calories, 7 g total fat, 3 g saturated fat, 55 mg cholesterol, 31 g total carbohydrate, 3 g fiber, 25 g protein, 610 mg sodium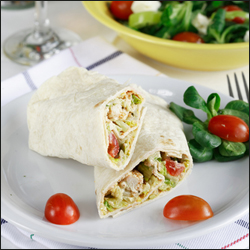 MartinsFoods.com
Chicken Wraps
Ingredients
1 lb boneless, skinless chicken breast tenders
1/3 cup barbeque sauce
6 large tortillas, preferably whole wheat
2 oz. shredded cheddar cheese
2 cups chopped tomatoes
2 cups shredded lettuce
Directions
Spray nonstick skillet with cooking spray and saute chicken tenders over medium-high heat about 6 minutes. Pour barbeque sauce over chicken and heat through.
Divide cooked chicken, cheese, tomatoes and lettuce among the tortillas, fold and wrap tortillas to contain ingredients.
Information
Category

Poultry, Main Dishes
Saved to