Chickpea stuffed poblano pepper
A light and healthy dinner!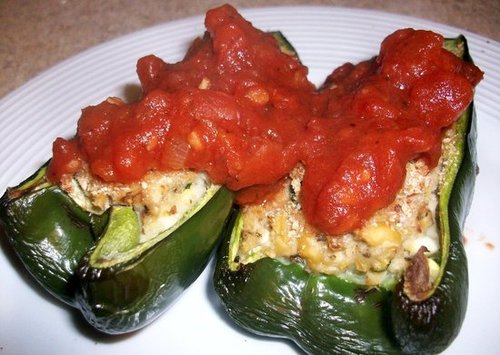 Chickpea stuffed poblano pepper
Ingredients
1 poblano pepper
1 clove garlic, minced
1 tbsp onion, finely chopped
olive oil for sauteing
1/2 cup chickpeas
1 inch piece zucchini, finely chopped, salted, and allowed to sit
1 egg white
1/4 tsp dried basil
1/4 tsp crushed red pepper (or more!)
pinch of salt
generous shake of pepper
1/2 cup marinara sauce
1/2 tbsp breadcrumbs
Directions
Preheat your oven to 375°C.  Halve and seed the poblano pepper and set aside.  Saute the onion and garlic.  Add to a bowl along with the chickpeas and mash with a fork until few whole chickpeas remain (alternatively, you could use a food processor!).  Add zucchini, egg white, and spices and combine.
Spread marinara sauce in the bottom of a small dish (I used a loaf pan).  Fill pepper halves with the chickpea mixture and place in the pan.  Top with breadcrumbs.
Bake for about 30 mins or until the pepper softens.  Turn the oven to broil.  Remove after about 5 mins or once the breadcrumbs brown to your liking.  Serve and enjoy!
Information
Category

Main Dishes
Saved to