Chilly Weather = Chili Dinner
I finally made some veggie chili this past weekend. It wasn't that chilly outside, but I just wanted it. Plus, the chili recipe I was going to use was super easy. When it comes to cooking on a after work, I need something easy!
Even though I'm the beer girl, I did not pair any beers with my chili.  I enjoyed an Oktoberfest brew later that night though. I think that if I had enjoyed the two together, they would have complimented each other nicely.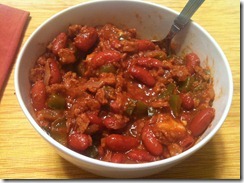 Ingredients
1 TBS oil (olive oil works well)
1 small onion, diced
1 bell pepper, diced
2 jalapenos (optional)
1 bag Morningstar Farms veggie crumbles
1 15-oz can tomato sauce (no salt added is great)
2 15-oz cans kidney beans (light or dark)
2 TBS chili powder
1 TBS ground cumin
2 tsp red pepper flakes (optional)
Directions
1. Heat the oil in a large pot, and then add the onion, bell pepper, and jalapenos (if using).
2. After the veggies have softened, "brown" the frozen veggie crumbles. This may take approximately 5 minutes on about medium/high.
3. Once defrosted, add tomato sauce and beans. Stir occasionally and let the chili start to boil. Reduce heat to medium.
4. Add desired spices, stir, and simmer until heated through.
Tips/Notes
If you're in a hurry, skip the veggies. Seriously – this is the fastest chili ever.
If you prefer more natural meals, use lean, 1 lb. of grass-fed beef instead of veggie crumbles.
I like jalapenos, so I add two, but you can add more or less to your liking.
I never measure my spices, so these are approximations. I never make it the same way every time, so just use what you like.
Like most savory meals, it's best with cheese…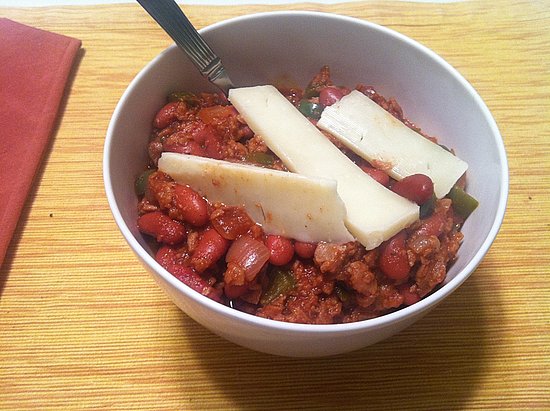 I hope you like the recipe!  For more tips, tricks, and meal ideas, check out my blog at http://lovesweatbeers.com.
Saved to