Chipotle Roasted Pumpkin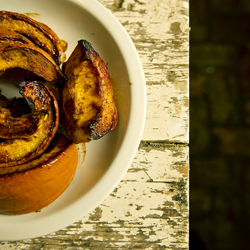 Now that I have sufficiently purchased every pie pumpkin and can of pumpkin in Trader Joe's…I want to share one of my favorite (and easiest) recipes. Its so easy that I feel a little embarrassed to call it a recipe…but it is flavorful and delicious and the perfect side dish for basically any meal! Sweet, spicy, smoky, yummy.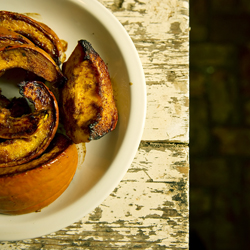 Ingredients
1 medium pie pumpkin (I got mine at Trader Joe's)
3 T brown sugar
1/2 t ground chipotle powder
1/2 t garlic powder
1 t sea salt
1/8 t cayenne pepper
1/2 t ground cumin
1/2 t ground cinnamon
Directions
Preheat the over to 450 degrees. In a large bowl, combine the brown sugar, chipotle powder, garlic powder, sea salt, cayenne pepper, cumin and cinnamon.
Mix well. Cut the pumpkin into 16ths and then spray them with cooking spray. Toss them in the brown sugar mixture and then lay them on a cookie sheet.
Roast for 40 minutes…until golden brown and caramelized!
Information
Category

Side Dishes
Saved to